Home » Posts tagged with "AIDS Cure"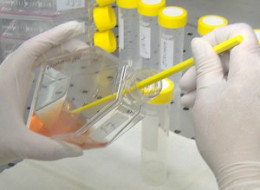 On the heels of World AIDS Day comes a stunning medical breakthrough: Doctors believe an HIV-positive man who underwent a stem cell transplant has been cured as a result of the procedure. Timothy Ray Brown, also known as the "Berlin Patient," received the transplant in 2007 as part of a lengthy treatment course for leukemia. His doctors recently published a report in the journal Blood...
American pharmaceutical corporations are embarrassed to admit that a German found a way to cure AIDS, dissimulates and hides to the American public. A Foley physician said what appears to be the first case of HIV/AIDS cure in the world is getting little mention in the media. Dr. Awadhesh K. Gupta, medical director at Foley Walk-In Med Care, said he first heard of the medical breakthrough in April when...