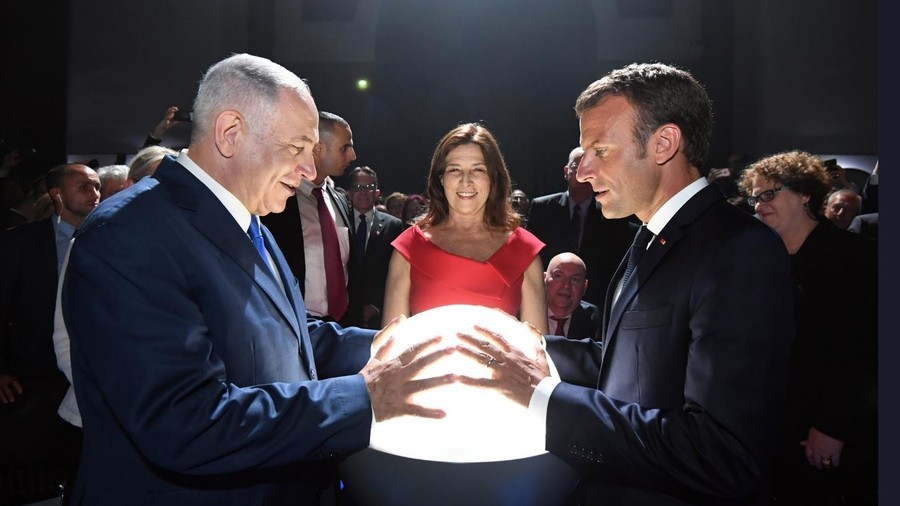 The satanic orb thing appeared again this week in France, with Emmanuel Macron swearing allegiance to some satanic force within it next to the Israeli leader Netanyahu.
Now if this orb is "not Satanic", then explain to me wtf it is.
No one explains it. It just shows up, and world leaders engage in a ritual with it.
Orb memes and supernatural conspiracies are back with a vengeance after Benjamin Netanyahu and Emmanuel Macron were pictured grasping a strange glowing sphere between them.
The bizarre moment comes a year after an uncannily similar photo, featuring US President Donald Trump, Saudi King Salman and Egyptian President Abdel Fattah al-Sisi, sparked witchcraft conspiracies across social media.
Netanyahu was in Paris to meet French President Macron for discussions about the Iran deal among other issues when he attended a gala in honor of 70 years of the State of Israel.
The function, held at the Grand Palais, marked the opening of the Israel-France Cross-Cultural Season and, inexplicably, included a glowing orb-like object which the leaders just had to get their hands on.
Unsurprisingly the image of Netanyahu and Macron clasping the orb and staring into its depths has captured the imagination of the Twitterati who appear to be on the lookout for these mystical spheres.
It has also revived the earlier popular orb memes and once again aroused conspiracy theories concerning evil forces and demonic rituals.
Prime Minister Benjamin Netanyahu and his wife Sara, and French President Emmanuel Macron and his wife Brigitte attended a gala event in honor of 70 years of the State of Israel and the opening of the Israel-France Cross-Cultural Season. 🇮🇱🇫🇷https://t.co/Pjt5J4a2lP pic.twitter.com/2igdnnWK6b

— PM of Israel (@IsraeliPM) June 5, 2018
The Second Orb has been discovered pic.twitter.com/gCH3oZlgNf

— Karl McDonald (@karlusss) June 6, 2018
nine orbs were gifted to the race of men, who above all else desire power and a weird photo opportunity pic.twitter.com/o1GyM6sSvP

— Rupert Myers (@RupertMyers) June 6, 2018
This is what I see every time. pic.twitter.com/fOERCsn2hu

— Matt (@matthewmerez) June 6, 2018
— officer chandler (@Hell_Superman) June 5, 2018
— Gareth Goulding (@ggggarethg) June 6, 2018
The only good thing Netanyahu has ever done is bring the orb memes back https://t.co/sNBGLZ6DFb

— Sam Pritchard 🌹 (@thucydiplease) June 6, 2018
One potential cause of the leaders' strange stance has already been struck out. The Church of Satan previously clarified that the act of standing around an orb is not actually a "satanic ritual."
RELATED ARTICLES
Did you like this information? Then please consider making a
donation
or
subscribing
to our Newsletter.