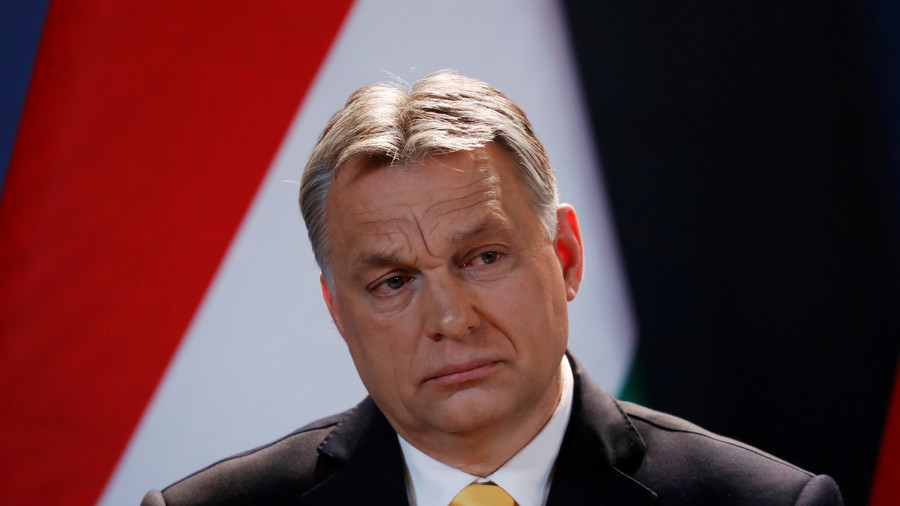 The European Parliament's Civil Liberties, Justice and Home Affairs committee will ask MEPs to vote for Hungary to be sanctioned over alleged violations of the rule of law, just days after Viktor Orban's decisive re-election.
Democracies are so tolerant! Nationalists like Orban are so evil they need to be sanctioned. So lets get this straight, those leftist dirtbags always call themselves "tolerant" yet all it takes to show their true colors is to vote for a nationalist.
And all of this why? Because Orban doesn't want to fill his country with a bunch of Arab criminals who blow themselves up from time to time, grooming gang rapes like in the UK, pimping, drugs, theft, mosques everywhere, loss of jobs, and other "benefits".
Viktor Orban should exit the EU and make a NEW EU with countries like Serbia, Ukraine, Belarus, Moldova, Russia and others who would like to exit the EU and join the new EU, let's jokingly call it…. REU (The REAL European Union), because the current EU is fake! This isn't a EUROPEAN Union, this is a WORLD Union when you have all those Arabs, Africans and other TENS OF MILLIONS of non-European invaders. How can this be called European anymore? In the REU constitution you can clearly say "Immigration of people of non-European ancestry is strictly prohibited." The constitution can allow immigrants from USA for example but they have to be white and prove through DNA tests that they have only European ancestry.
"Time and time again, Viktor Orbán's government has undermined the independence of the judiciary, freedom of the press and the fundamental rights of its citizens," said the motion, authored by Dutch Green Party MEP Judith Sargentini, who has led an investigation on whether Budapest is in breach of "EU values."
With Orban set for a third consecutive term, after the Eurosceptic, anti-immigrant Fidesz party took the vast majority of parliament seats on April 8, the EU committee proposed invoking Article 7 of the Treaty on European Union. The statute would force Hungarian officials to defend their country before the European Council, and could eventually see Budapest's voting rights in the EU suspended.
"This is not something we call for lightly. But the EU has an obligation to protect the rights of every single one of its citizens. With no sign that the Hungarian government will change course, the Council must initiate proceedings now," wrote Sargentini.
Approval of the initial stage of Article 7 would require votes from two-thirds of the European Parliament's 750 members. The European People's Party (EPP) – the largest in the EU Parliament – that contains members of Fidesz, says that it will not back any moves to punish Hungary. Article 7 has only been invoked once in EU history, against Poland in 2015, though no significant sanctions have come of it so far.
Orban's government, which has been in power since 2010, is being incriminated for restricting the operation of foreign-funded universities and NGOs, which affected the George Soros-backed Central European University in Budapest and his foundations, restricting the rights of migrants, religious and ethnic minorities. The EU is also concerned about "the functioning of the constitutional system," as well as "the independence of the judiciary and of other institutions" and corruption.
Fidesz says that the attacks on Hungary are a politically-motivated punishment for refusing to bend to EU rules on accepting migrants.
"My problem with this committee, this debate and the rapporteur is that they don't want to accept the unquestionable decision of the Hungarian citizens who overwhelmingly voted in favour of the Hungarians government's path," Kinga Gal, an MEP from Fidesz, told the media in Brussels. "We are being punished because we have stood up against mandatory relocation of migrants into Hungary."
Indeed, a lot of the support for Orban's party in the recent election is thought to come from his tough stance against accepting migrants. With Hungary located on the main land route for Middle Eastern refugees into the EU, Orban has made it a point to make sure his country isn't forced to bear the brunt of the migration crisis. Since the start of the massive influx of asylum seekers in 2015, he has built border walls and pushed back against EU-inforced quotas on accepting migrants.
Orban's sworn nemesis in this is American-Hungarian billionaire George Soros, who Orban accuses of "organizing illegal immigration" through a network of NGOs. This enmity has given a name to the landmark 'Stop Soros Act,' soon to be introduced by Fidesz, which aims to severely tax the work of foreign-funded NGOs in Hungary.
Source
RELATED ARTICLES
Did you like this information? Then please consider making a
donation
or
subscribing
to our Newsletter.