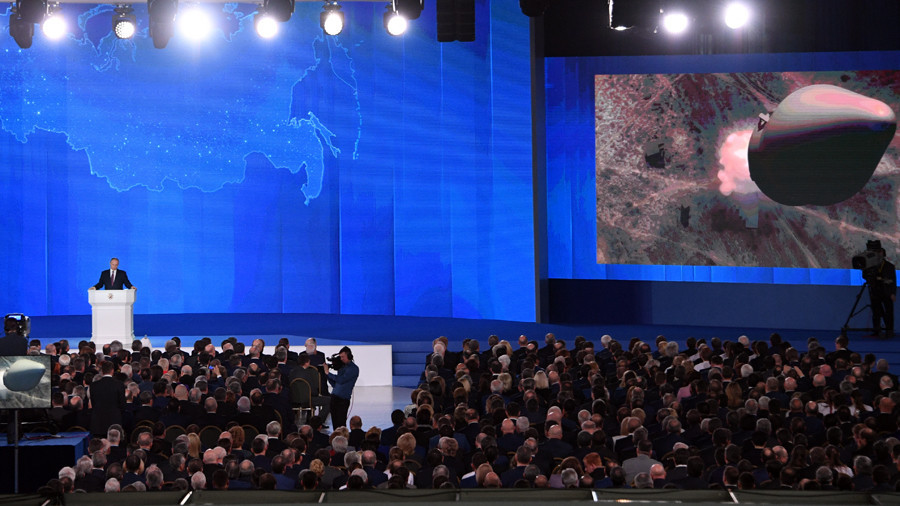 Russia's new hypersonic Sarmat ICBM, which is capable of overcoming missile defense systems, has completed tests and is a "breakthrough" for the country's missile program, according to President Vladimir Putin.
The announcement was made during Putin's annual address to Russia's Federal Assembly, and was accompanied by a video showcasing the missile's capabilities. Sarmat is capable of outmanoeuvring modern missile defense systems, he said.
Putin told the Federal Assembly that Russia had begun working on ways to counter American anti-missile capabilities as early as 2004 – but that Washington had ignored Moscow's warnings. "You will listen to us now," he said.
Capable of carrying a wide range of nuclear weapons, the Sarmat system has virtually no range limit and will be able to attack across both the South and North Poles, Putin said.
The Sarmat will replace the aging but reliable Soviet-era R-36M2 Voevoda (SS-18 Satan) ICBMs.
The latest advances in Russian strategic deterrence have made America's anti-missile systems obsolete, so Washington should stop trying to diminish Russia's security and start talking to Moscow as an equal partner, not the dominant military power it seeks to be, Putin said.
The Russian leader made the comments during his state of the nation address on Wednesday. While the first part of the address was a straightforward description of domestic goals and achievements, the second became a defiant challenge to the US. Putin announced that Russia has successfully developed several new weapons systems, which basically negate American anti-ballistic missile capabilities.
The Russian president accused the US of arrogance, saying that it thought that Russia would not be able to recover anytime soon after the collapse of the Soviet Union and that its interests can simply be ignored. One particular move – the withdrawal by George W Bush from the Anti-ballistic Missile Treaty (ABM) in 2002 – resulted in Russia being increasingly surrounded by American assets, which undermined the country's nuclear deterrence.
"In the end, if we did nothing, this would render the Russian nuclear potential worthless," Putin said. "They could simply intercept all of it."
Last week, Deputy Prime Minister Dmitry Rogozin said that the new missile "can rip [US] air defenses apart," adding that "at the moment [the US defense shield] poses no serious military threat to us, except for provocations."
RELATED ARTICLES
Did you like this information? Then please consider making a
donation
or
subscribing
to our Newsletter.