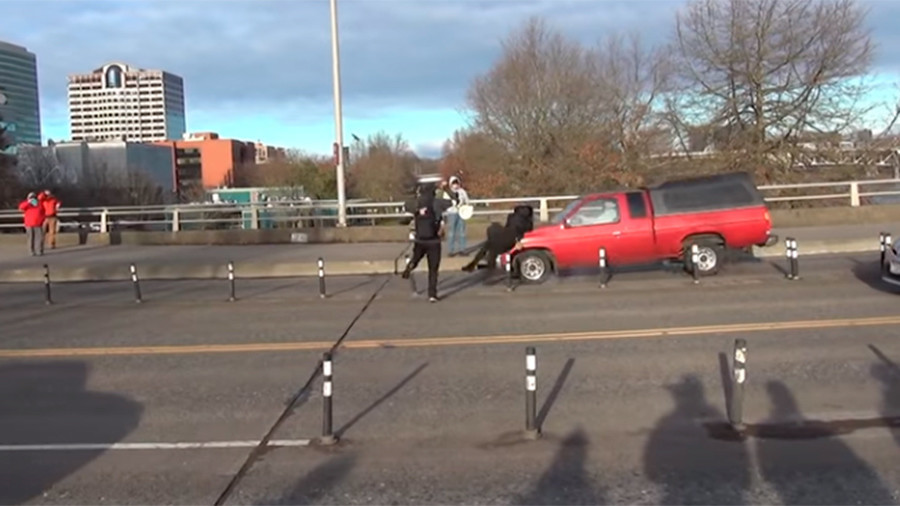 Maybe this was a sign from God? Or maybe not, who knows… but the communist protester did run towards the car without looking left & right so the driver should be perfectly clear but who knows after all in America, the land of Lucifer, everything abnormal is possible while everything normal is impossible…
So, a counter-protest in Portland staged against an event called 'March for Jesus' did not end well for one participant, who was hit by a pickup truck while running across the road.
The march was organized by a group called Patriot Prayer, led by a supporter of US President Donald Trump. Three activists who said they were part of the Antifa movement showed up to denounce the marchers as white supremacist trying to impose a religious worldview on America. The antifas advocated the "virtues" of communism through a megaphone.
Perhaps these people should be forcefully airdropped into North Korea, Venezuela and Cuba and enjoy the virtues of communism there.
The counter-protest, however, ended badly for one of the participants, who ran across the road and was hit by a pickup truck. The incident apparently resulted in a broken hip for the unlucky activist.
RELATED ARTICLES
Did you like this information? Then please consider making a
donation
or
subscribing
to our Newsletter.