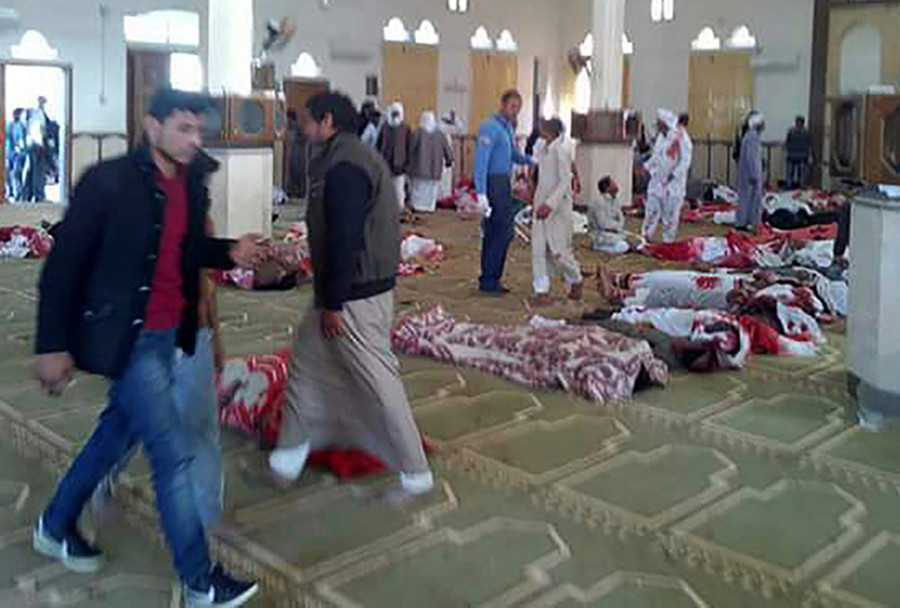 The Sinai mosque attackers were carrying the flags of Islamic State (IS, formerly ISIS/ISIL) group, Ahram news agency reports citing the public prosecutor's office. There were around 25-30 militants, the statement said, adding that the death toll has risen to 305.
The militants arrived at the Bir al-Abd mosque in five all-terrain vehicles, took up positions at the mosque's door and 12 windows and started firing on worshippers inside, Egypt's chief prosecutor Nabil Sadeq said in a statement Saturday. They are also said to have set fire to seven cars parked outside the mosque.
People ran for their lives after the gunmen detonated a bomb at Al-Rawdah mosque at the end of Friday prayers. They then opened fire on those fleeing and ambulances that arrived at the scene.
According to the Egyptian Al-Masry Al-Youm newspaper, the prosecutor has been hearing witnesses who confirmed that some of the attackers were masked, while all were dressed in military-style clothes. One of the perpetrators was reportedly carrying a black flag, saying "I bear witness that there is no God but Allah, that Muhammad is the Messenger of Allah."
So far, no group has claimed responsibility for what is believed to be the worst attack in Egypt's recent history. The country's president Abdel Fattah al-Sisi vowed"the military and the police will take revenge," saying the attack has only prompted Cairo to step up its efforts in targeting terrorism.
RELATED ARTICLES
Did you like this information? Then please consider making a
donation
or
subscribing
to our Newsletter.