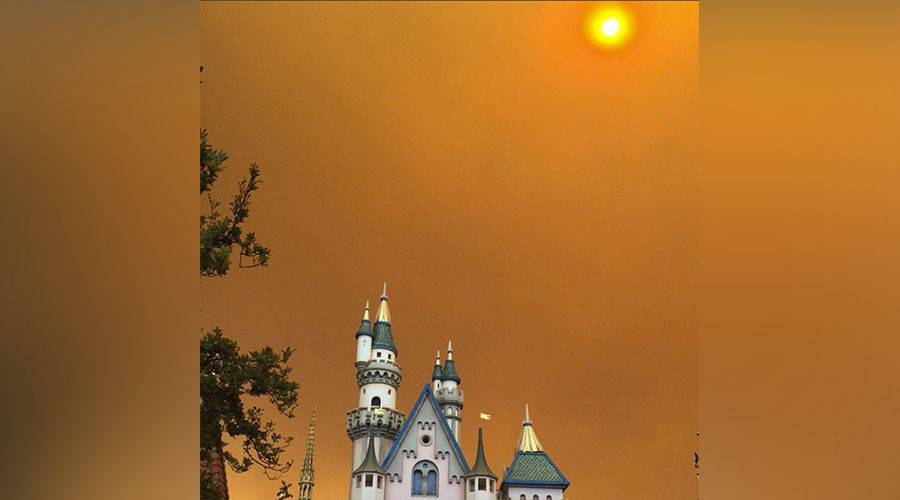 A wildfire raging in southern California has shrouded Disneyland in an apocalyptic-looking orange haze. Visitors to the park flooded social media with pictures of its landmarks against the eerie backdrop.
The theme park is decked out with Halloween decorations, adding another layer of spookiness to the scene. Social media users reported ash and smoke falling in the park.
Disneyland's social media channels and website indicated, however, that there were no changes to the operation of the park and all of the amusements remained open.
Other than the epic photo backdrop, the theme park has not yet been affected by the brushfire. However, around 13 miles (20km) away in Anaheim Hills approximately 1,000 homes have been evacuated due to the blaze.
The fire, which has been dubbed Canyon Fire 2, was first reported before 10:00 PST Monday.
The cause of the blaze is not yet known, however, it started in the same area as the first Canyon Fire at the Anaheim-Corona border last month.
Meanwhile, fires are also raging in northern California's wine country, which is around 430 miles 700km (430 miles) north of Anaheim.
At least 1,500 homes were destroyed as over two dozen wildfires spread through the area on Monday. Authorities said that at least 10 people have been killed and thousands have fled the area.
Paradise Pier at #Disneyland eerily quiet. Coaster stuck & evacuated, Toy Story closed, Anaheim fire clouds above. #Canyon2Fire #Disney pic.twitter.com/PnOuuAoMRm

— Jason Cochran (@JasCochran) October 9, 2017
My sister is in Disneyland and just sent me these pictures from the fire. Is the world ending or something? Cause this is wack pic.twitter.com/uRut0up3Yr

— David (@iheartnate) October 9, 2017
Anaheim fire as seen from Disneyland. Ash dropping everywhere. #Wildfire pic.twitter.com/s26P2xvuoL

— S. Preston (@PootPoot) October 9, 2017
The #AnaheimHills fire is making for a spooky feel to #Disneyland today pic.twitter.com/tQjcOsx2P9

— Doctor Disney (@Doctor_Disney) October 9, 2017
Ominous end to our weekend as #CanyonFire2 casts apocalyptic shadow over @Disneyland Resort. Fire to the east is forcing people from homes. pic.twitter.com/q4aomfzlD1

— Brian M. Westbrook (@BrianWestbrook) October 9, 2017
27th bday was magical 🎃💖 pic.twitter.com/d4YLOf3B7w

— Chris (@slaytopher) October 10, 2017
"Spooky" Disneyland just got Spookier pic.twitter.com/PtboTtT6pe

— jenna (@jennastyn) October 10, 2017
My view of the #AnaheimHills fire from #Disneyland. If you're near or in the area stay safe and be alert! pic.twitter.com/wrCrS6I7PM

— Nikki Naik (@nrnaik20) October 9, 2017
The Anaheim Hills are on fire and ashes are falling all over Disney right now pic.twitter.com/SJ4UFu2TJK

— Nate Griffey (@NateGriffey) October 9, 2017
here's the sky from Disneyland. no filters needed for this. fire meets the sky. pic.twitter.com/AugcYJ75O3

— Preston Heflin (@preston_heflin) October 9, 2017
Guardians + the eerie orange sky #disneycaliforniaadventure pic.twitter.com/g2pGc2XbWE

— LOLITA (@lothoee) October 9, 2017
RELATED ARTICLES
Did you like this information? Then please consider making a
donation
or
subscribing
to our Newsletter.