Baked Alaska (Tim Gionet) was seriously injured at Unite the Right, RedIce TV reports.
On the way to the rally, a previously unidentified man sprayed Tim in the face with a corrosive substance. While he initially thought he had been maced, the pain and vision impairment lasted longer than expected, leading him to believe that he was attacked with a far more harmful substance.
Thanks to some serious internet sleuthing, Tim's attacker has been found.
The identity of this lunatic, however, has not yet been discovered. But given the success of /pol/ at identifying antifa criminals, I have complete confidence that Tim's attacker will soon be given the chance to explain the finer points of anti-fascism to inmates in one of our fine federal penitentiaries.
Please help by spreading this far and wide. Baked Alaska went to Unite the Right to peaceful rally and was subject to a vicious, unprovoked attack.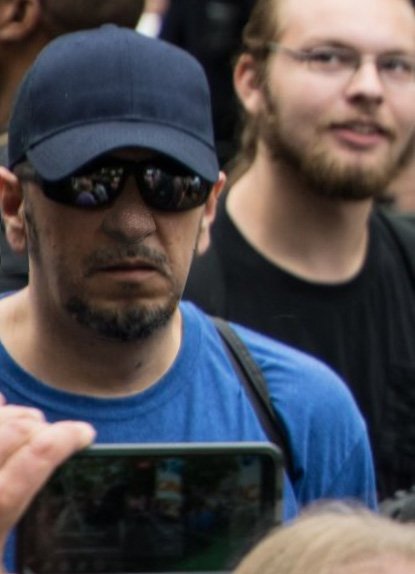 Here's the video of my attacker. Filing with Charlottesville PD, he will be going to prison when identified. pic.twitter.com/lzd7ZZm0aM

— Baked Alaska™ (@bakedalaska) September 1, 2017
i can't see how do i look? pic.twitter.com/Sks0BRiq1W

— Baked Alaska™ (@bakedalaska) August 13, 2017
https://twitter.com/MrFrexit/status/903659825086820352
–ALL HANDS ON DECK—

Man who allegedly maced Baked Alaska

**Correction video**

SHARE THIS VIDEO pic.twitter.com/wtlMgTkgzZ

— 口ひげの男 (@Millennial_Matt) September 1, 2017
Here's some extra photos of the suspect. Note his white mask in the clear pic, you can see he's wearing it in the video/screencap of attack. pic.twitter.com/icSM2DVORK

— Deus[Ex]Vult (@BaneOfBagels) September 1, 2017
Chan-anons now making connections between FattyBeard and InjuredGrey. The Spray-Gang is getting bigger. Find one, possibly find them all. pic.twitter.com/yzep8x5XtU

— Deus[Ex]Vult (@BaneOfBagels) September 3, 2017
As some of you may already know, there is a $7000 REWARD for whoever identifies Baked Alaska's attacker.
Some are speculating on Twitter that the man could be a FED alleging that they saw him later "securing the perimeter" at the car attack. However nobody offered any proof for that.
If true though, then not just the agent but the entire agency would have to be held accountable. Because this is terrorism and since when can agencies go rogue and turn into terrorists? These agencies were created to protect people not to blind them. However we don't wanna give any credence to this theory of him being an agent because there is simply NO PROOF whatsoever yet.
4chan's pol is already on it:
1) Heres an UPDATE in the Hunt for @bakedalaska attacker #WaldoMace. In order to find this perp we need to connect him to others. #FuckSleep pic.twitter.com/nhCLrC56IF

— polreport (@polreport) September 2, 2017
Have no fear, pol is gonna eventually find the attacker. pol has proven to be so effective even the FBI is using them for investigation clues. These people should be paid for the job they do:
17) Just got told some Feds are watching this thread. Hope they're learning.. pic.twitter.com/WxPfvPYc5k

— polreport (@polreport) September 2, 2017
Let's bring his attacker to justice.
RELATED ARTICLES
Did you like this information? Then please consider making a
donation
or
subscribing
to our Newsletter.