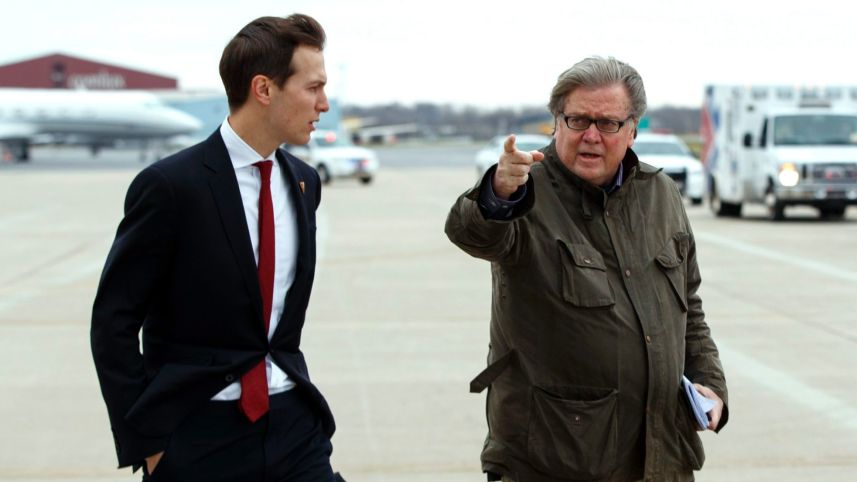 A rift has reportedly emerged between Donald Trump's chief strategist, Steve Bannon and his son-in-law Jared Kushner. The pair are believed to have clashed over opposing ideological visions for Mr Trump's White House.
Donald Trump's chief strategist Stephen Bannon has called the president's senior advisor and son-in-law Jared Kushner a "cuck" and a "globalist" during a time of high tension between the two top aides, several Trump administration officials told The Daily Beast.
The fighting between Kushner and Bannon has been "nonstop" in recent weeks, according to sources who spoke on condition of anonymity. It's been an "open secret" that Bannon and Kushner often clash "face-to-face," according to senior officials.
One official said Bannon has lately complained about Kushner trying to "shiv him and push him out the door" and likened him to a fifth column in the White House.
"[Steve] recently vented to us about Jared being a 'globalist' and a 'cuck'…He actually said 'cuck,' as in "cuckservative,'" the administration official told The Daily Beast.
"Cuckservative," a portmanteau of "cuckold" and "conservative," has become a favorite slur on the right, used like a sexually and racially charged version of "RINO," a Republican In Name Only. "Globalist" is a term typically used by nationalist, pro-Trump right-wingers against political opponents; however, the term has also come under fire for at times carrying anti-Semitic tones since Kushner is Jewish.
This comes shortly after Bannon already threatened to quit yesterday after Trump removed him from the NSC.
According to Roger Stone, Kushner is also one of the White House leakers who leaks info to MSNBC's Morning Joe show about Steve Bannon.
RELATED ARTICLES
Did you like this information? Then please consider making a
donation
or
subscribing
to our Newsletter.