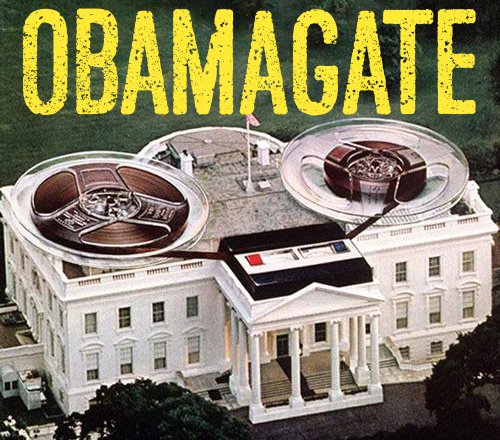 Obama officials caught lying AGAIN.
A source inside the Obama administration acknowledged that wiretapping was conducted to spy on Trump during the 2016 Presidential election.
Democrat Kathy Arue: "My sources from the White House told me, she thinks it's all true. She said, um there were concerns that Trump-and this is from the White House and the administration inside the White House…there were concerns that Trump and his surrogates may have been colluding with the Russians and a possible bargaining chip to influence the election, therefore a wiretap was conducted."
That's a load of crap.
The Obama administration knew there were no Trump ties to Russia that is just the excuse they are using now to try to cover for their illegal activity.
Lock him up!
House Speaker Paul Ryan has also confirmed that the Obama Administration has illegally wiretapped Donald Trump at Trump Tower
Speaker Paul Ryan joined Brett Baier last night on Special Report.
Ryan told Baier the Obama administration wiretapped Trump Tower.
Brett Baier: There's a report that June 2016 there's a FISA request b the Obama administration from a communications court to monitor communications to monitor Donald Trump and several campaign officials. They get turned down. Then in October they renew it. And they do start a wiretap at Trump Tower with some computer and Russian banks and it doesn't show up anything. Have you heard that?
Paul Ryan: Again as I said none of us in Congress or anybody I know in Congress has been presented with evidence to the contrary to what you just said.
Brett Baier: So you believe it to be true.
Speaker Ryan: We have seen no evidence that anyone in this campaign or no American was in on it with the Russians to meddle with your elections.
First FISA Request on Trump Tower Came After Clinton and AG Lynch Met Privately on Tarmac
Was it coincidence or an indication of things to come?
The pieces to Obamagate are falling together.
On June 27th of 2016, Bill Clinton met secretly with Obama Attorney General Loretta Lynch at the Phoenix Sky Harbor International Airport.
A week later FBI Director James Comey laid out in a press conference the many scandalous activities taken by Hillary Clinton while she was President Obama's Secretary of State and then he said the famous words:
Our judgment is that no reasonable prosecutor would bring such a case."
We now know that the meeting between Bill Clinton and Attorney General Lynch occurred at about the same time that the Obama administration filed a request with the Foreign Intelligence Surveillance Court (FISA) to monitor communications involving Donald Trump and several advisers.
The request, uncharacteristically, was denied.
Fast forward to October 2016. Wikileaks began releasing emails of Clinton campaign chair John Podesta, rolling out batches every day until the election, creating new mini-scandals. These emails were virtually ignored by the mainstream media who were in the bag for Democrat Hillary Clinton but were spread widely by websites that chose to share the truth like this one.
At the same time, The Obama administration submitted a new, narrow request to the FISA court, now focused on a computer server in Trump Tower suspected of links to Russian banks.
No evidence is found — but the wiretaps continued, ostensibly for national security reasons, Andrew McCarthy at National Review later notes.
The Obama administration was monitoring an opposing presidential campaign using the high-tech surveillance powers of the federal intelligence services.
At about this same time the leaks started coming. Liberal website Slate posted a report on October 31st titled: Was a Trump Server Communicating With Russia? The subtitle to the post read: "This spring, a group of computer scientists set out to determine whether hackers were interfering with the Trump campaign. They found something they weren't expecting."
The article shared a story of innocent 'anonymous' hackers who went searched the net and found the following:
In late July, one of these scientists—who asked to be referred to as Tea Leaves, a pseudonym that would protect his relationship with the networks and banks that employ him to sift their data—found what looked like malware emanating from Russia. The destination domain had Trump in its name, which of course attracted Tea Leaves' attention. But his discovery of the data was pure happenstance—a surprising needle in a large haystack of DNS lookups on his screen. "I have an outlier here that connects to Russia in a strange way," he wrote in his notes. He couldn't quite figure it out at first. But what he saw was a bank in Moscow that kept irregularly pinging a server registered to the Trump Organization on Fifth Avenue.
The creative article went on to try and paint a connection with now President Trump:
The researchers had initially stumbled in their diagnosis because of the odd configuration of Trump's server. "I've never seen a server set up like that," says Christopher Davis, who runs the cybersecurity firm HYAS InfoSec Inc. and won a FBI Director Award for Excellence for his work tracking down the authors of one of the world's nastiest botnet attacks. "It looked weird, and it didn't pass the sniff test." The server was first registered to Trump's business in 2009 and was set up to run consumer marketing campaigns. It had a history of sending mass emails on behalf of Trump-branded properties and products. Researchers were ultimately convinced that the server indeed belonged to Trump. (Click here to see the server's registration record.) But now this capacious server handled a strangely small load of traffic, such a small load that it would be hard for a company to justify the expense and trouble it would take to maintain it. "I get more mail in a day than the server handled," Davis says.
The question that arrises from the post is why was an individual who supposedly won an award at the FBI looking into a server at the Trump Tower?
Was this the beginning of the Obamagate leaks?
And what did Attorney General Loretta Lynch discuss with Bill Clinton on the Arizona tarmac?
Even the Failing New York Times reported back in January that Obama May Have Spied on Trump
Less than two months ago, the day before the inauguration of Donald Trump as president, the New York Times reported the possibility that the Obama administration was spying on Trump. The Times report also said that three Trump associates were being spied on by the Obama administration and that reports on the wiretaps were delivered to the Obama White House.
The two keys lines in the article are one stating could not be ruled out that Trump himself was being spied on by Obama. The other being the wiretap reports being sent to the White House.
Intercepted Russian Communications Part of Inquiry Into Trump Associates
American law enforcement and intelligence agencies are examining intercepted communications and financial transactions as part of a broad investigation into possible links between Russian officials and associates of President-elect Donald J. Trump, including his former campaign chairman Paul Manafort, current and former senior American officials said.
The continuing counterintelligence investigation means that Mr. Trump will take the oath of office on Friday with his associates under investigation and after the intelligence agencies concluded that the Russian government had worked to help elect him. As president, Mr. Trump will oversee those agencies and have the authority to redirect or stop at least some of these efforts.
It is not clear whether the intercepted communications had anything to do with Mr. Trump's campaign, or Mr. Trump himself. It is also unclear whether the inquiry has anything to do with an investigation into the hacking of the Democratic National Committee's computers and other attempts to disrupt the elections in November. The American government has concluded that the Russian government was responsible for a broad computer hacking campaign, including the operation against the D.N.C.
The counterintelligence investigation centers at least in part on the business dealings that some of the president-elect's past and present advisers have had with Russia. Mr. Manafort has done business in Ukraine and Russia. Some of his contacts there were under surveillance by the National Security Agency for suspected links to Russia's Federal Security Service, one of the officials said.
Mr. Manafort is among at least three Trump campaign advisers whose possible links to Russia are under scrutiny. Two others are Carter Page, a businessman and former foreign policy adviser to the campaign, and Roger Stone, a longtime Republican operative.
The F.B.I. is leading the investigations, aided by the National Security Agency, the C.I.A. and the Treasury Department's financial crimes unit. The investigators have accelerated their efforts in recent weeks but have found no conclusive evidence of wrongdoing, the officials said. One official said intelligence reports based on some of the wiretapped communications had been provided to the White House…"
The leftist hysterical media is as usual in full defense of Obama, saying that he didn't do it because it would be illegal.
This is like being accused of murder and saying "oh I couldn't have killed that man – it's illegal to murder people." It's utter nonsense.
Obama and the media are buried in the same grave because after this is out, the media will have no choice but to either
A) condemn Obama as a criminal, or
B) defend spying on political opposition.
This is a Chinese finger trap where the Democrats have no escape from.
RELATED ARTICLES
Did you like this information? Then please consider making a
donation
or
subscribing
to our Newsletter.