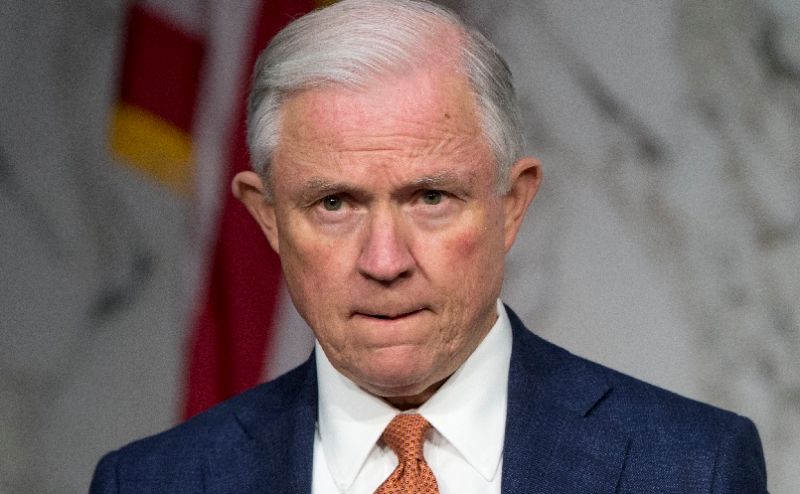 Need we remind each and every single one of you Demonrat schizophrenics that Jeff Sessions was a US SENATOR up until only a few days ago? He was not part of the Trump campaign. If the Demonrats manage to destroy Sessions as they did with Flynn then there will simply be no hope left.
Now top House Minority Leader Nancy Pelosi demands US Attorney-General Jeff Sessions resign for "lying under oath" during his confirmation hearings. Sessions' spokeswoman said he was speaking of Trump campaign's contacts with Russia, not of his own activities. Ohh yeah everybody is a Russian spy according to those schizophrenics.
"Jeff Sessions lied under oath during his confirmation hearing before the Senate. Under penalty of perjury, he told the Senate Judiciary Committee, 'I have been called a surrogate at a time or two in that campaign and I did not have communications with the Russians.' We now know that statement is false," mentally ill demonrat Pelosi wrote.
Unnamed Justice Department officials told the Washington Post on Wednesday that Sessions spoke to Russian Ambassador to the US, Sergey Kislyak twice last year, which would contradict statements Sessions made as US senator during Senate hearings for his confirmation to the Attorney General post.
"There was absolutely nothing misleading about his answer," Sarah Isgur Flores, Sessions' spokeswoman, said on Wednesday, commenting on the attorney-general's remarks.
"He was asked during the hearing about communications between Russia and the Trump campaign — not about meetings he took as a senator and a member of the Armed Services Committee," Flores stressed.
They are doing it again and we cannot let them win this! We simply cannot! Jeff Sessions cannot resign.
We need a pledge that Trump will declare martial law before that happens.
Jeff Sessions was a member of the Armed Services Committee, and meeting with the Russian Ambassador was an absolutely normal thing and can't even come close to being considered improper or breaking any law. Furthermore Sergey Kislyak is an AMBASSADOR, not an FSB agent, and Sessions was meeting with him in an official capacity and even furthermore, Trump is the president, he gets to pick and choose who his country has as a friend and foe. The choice has been made, Russia is going to be a friend. Accept it Demonrats, its not your decision to take.
So called "republican" senators or better known as RINOs, John McBRUTUS (the traitor who killed Caesar), opps sorry John McCAIN (yes CAIN like, Abel's murderer brother from the Bible, have you ever noticed how those people bearing the name of "CAIN" tend to be evil and twisted?) had to join psycho Pelosi and push his spear into the story just like the Roman soldier who pierced dying Jesus on the cross with his spear to make sure He's dead. As usual McCrap had to be accompanied by his queer counterpart Weasel Graham, opps sorry… Lindsey! Yeah they both demanded that their former Senate colleague Jeff Sessions who only joined the administration like a few days ago, resign because "he's a Russian agent". There is no Russian conspiracy. These people making these calls must be shut down and put behind bars.
And whoever is leaking this stuff needs to be arrested and put on trial for treason. What is it so hard about it? Why can't Trump find the leaker already? Its quite simple actually all he needs to do is to giveaway some "top secret" PDF memo, modified in whatever the number of exemplars needed. All he needs to do is to modify a single dot (.) or comma (,) or letter to a different FONT SIZE or FONT type altogether, something really impossible to notice with the human eye, then take note of which PDF file goes to whom and then see whose version gets leaked. Or simply do a printed version handout of the file and make some small, really hard to notice tiny marks with a pen such as in the SEAL of US President, page number or anywhere. This is in case the file gets scanned then sent over email. Hand it over to EVERYONE, including your trusted son in law Jared Kushner and VP Mike Pence, Steve Bannon, Kellyanne Conway.
EVERYONE is a suspect until proven innocent. For example, give a version to Reince Priebus where inside the Seal of the US President, there is a tiny dot below the eagle's left wing, give another version to Mike Pence where the the dot is below the eagle's right wing, give another version to Jared Kushner where there is a dot near the eagle's claw. Tell no one about your plan then wait and see which version is leaked in the newspapers. Lets say the version leaked in the newspapers is the one with a tiny dot near the eagle's left wing. Then you got him, the leaker is Reince Priebus. Is it really so hard to catch the leaker? If the fake news media reporting on the leaks/top secret memo received from "anonymous sources" include just small portions from the file, then simply send the FBI over to demand that they handover the entire document they received OR ELSE.
There is probably just one leaker so even if the leaker notices the tiny microscopic dot which is IMPOSSIBLE, he's gonna assume its normal, he's not gonna go around comparing his file to other people's files to see if they are exactly identical, especially if they are printed. It could just be a random small printer error/aberration. Tell them individually its secret, tell no one, ask no one about it. Its so easy to catch the bastard… And last but not least install a freaking KEY LOGGER in their computers, make sure to add the spyware software in the computer's firewall ALLOWED list otherwise not only the spyware will get blocked but the user will get notified about its presence in the computer as well.
Is it really so hard? Trump talked about incompetence a lot of time, well being unable to find and put the leaker behind bars is truly incompetence at its finest so find it already and prove it Mr Trump that you are competent, unlike Obama! Furthermore if all else fails, ORDER the FBI and CIA to find the leaker within 48 hours OR ELSE.
If only Trump would read our website… he could learn a lot of great stuff from the EU Times…. Not saying he should read ONLY our website but he should include our website among his other info sources.
In conclusion I believe that this is an attack on the United States and an attempt to aid its internal and foreign enemies.
RELATED ARTICLES
Did you like this information? Then please consider making a
donation
or
subscribing
to our Newsletter.