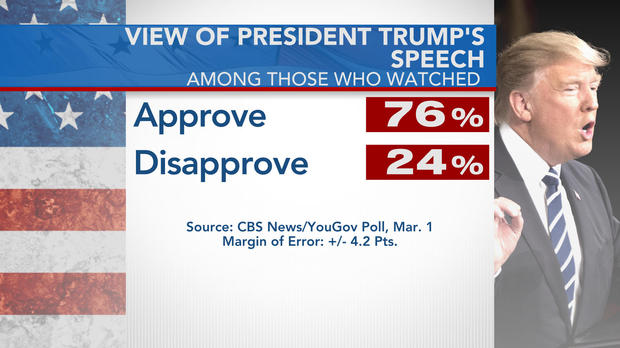 After Speech 69% of Americans Say Trump's Policies Will Move America Forward
CNN took a poll last night after the president's speech.
57% of Americans had a positive view of President Trump's speech last night to Congress.
These were not the numbers CNN or Democrats were expecting.
After watching the speech 69% of viewers thought President Trump's policies will move the country forward.
And the poll is by CNN, now that I find very interesting.

RT @PrisonPlanet: pic.twitter.com/oAWcyJcnqX

— Brexiteer (@AmpersUK) March 1, 2017
CNN tried to downplay their own results after the polls came back so favorable for Trump.
But wait that's not all, there's more, here's what CBS found!
CBS Poll: Trump Speech Scores 76% Approval Rating
President Trump did not just deliver a good speech on Tuesday night.
Americans thought it was outstanding!
76% of viewers liked President Trump's speech.
48 million Americans watched President Trump's speech.
CBS News reported:
Viewers nationwide strongly approved of President Trump's speech Tuesday night, with many Democrats joining Republicans in calling it "presidential" and positive in tone. Republicans and Independents found it "unifying," though Democrats were slower to come around on that measure.
The President gained support for his policy plans among viewers: Interviewed before and after the address, they came away from it more positive on his ideas for the economy, immigration, terrorism, crime and Obamacare.
As is often the case in addresses to Congress, those who watched were more likely to be from the president's party – in this case, Republicans. And they described a president they felt was keeping campaign promises and offering an "inspiring" message.
RELATED ARTICLES
Did you like this information? Then please consider making a
donation
or
subscribing
to our Newsletter.