The Federal Bureau of Investigation has published another set of documents from their probe into Hillary Clinton's use of a private email server while heading the US Department of State.
The 100-page collection of documents can be read here. The disclosure is part of the FBI's effort to explain the recommendation not to press any charges against Clinton, made in July by Director James Comey.
The first document appears to be a summary of the interview – called the "FD-302" – with someone at Platte River Networks (PRN), the contractor that maintained Clinton's private email server.
PRN referred to Clinton contract as "CESC," short for Clinton Executive Services Corporation. The first PRN executive interviewed "didn't believe there was a successful intrusion attempt" against the Clinton server, the FBI said.
The second PRN executive interviewed by the FBI pointed to the possibility that CESC emails that were destroyed by Bleachbit software "still existed in the live email accounts."
Another interview reveals that PRN reached out to the Connecticut-based provider DATTO to host a private, local backup of Clinton's email server.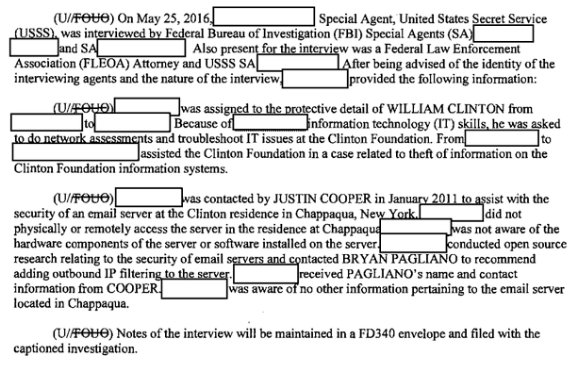 One employee of the FBI's Records Management Division testified that the State Department requested the FBI do a classification review of some emails prior to their public release. At least one email marked unclassified actually contained classified information. Someone from the FBI's International Operations Division "pressured" the interviewee to declassify the email. That person indicated he had been contacted by Undersecretary of State Patrick Kennedy, who offered a "quid pro quo" for declassifying the email.
Kennedy took the email discussion all the way up to Michael Steinbach, assistant director of the Counterterrorism Division (CTD), who refused to change the classification. After Steinbach said the FBI would not comment on the matter to the public, Clinton appeared before the press and said she had not sent classified emails via her private server.
Steinbach was promoted to Executive Assistant Director (EAD) of the National Security Branch (NSB) in February 2016, according to the FBI.
Kennedy later told another official from the FBI's International Operations Division (IOD) that the email's classification "caused problems" for him, and that he wanted it classified B9, so it could be archived "in the basement of DOS never to be seen again."
However, when the CTD explained that the classified email was related to the 2012 attack on the US consulate in Benghazi, Libya, the official told Kennedy there was "no way" he could declassify it.
RELATED ARTICLES
Did you like this information? Then please consider making a
donation
or
subscribing
to our Newsletter.