"Mike Pence just had THE campaign stop of his VP run. Pouring rain, no umbrella, protesters heard from afar, great crowd energy, revved crowd", Vaughn Hillyard, NBC News.
Republican vice presidential nominee Gov. Mike Pence of Indiana blew away the press Tuesday night with a high-powered performance as he spoke to and held a crowd of about 650 supporters in the pouring rain in Williamsburg, Virginia. Pence who is the VP drew more supporters than Hillary Clinton herself who usually draws 100-200 supporters per rally, despite holding his speech in the rain and at night.
"Update: Pence is soaked, crowd is soaked, and I am soaked"
"650 supporters joined us in the pouring rain in Williamsburg, VA. Virginia is ready to elect @realDonaldTrump! #MAGA"
Pence spoke in front of the old (replica) Capitol and was introduced by former Virginia Governor Jim Gilmore who ran against nominee Donald Trump for the Republican presidential nomination.
The rain picked up a few minutes before Gilmore began his brief introduction of Pence.
Pence took the stage and spoke for about twenty minutes without an umbrella, occasionally looking down at his rain-soaked note cards. As Pence gets deeper into his speech, his dark suit and blue shirt get wetter and darker until he was thoroughly soaked.
Reporters covering Pence were blown away.
"Mike Pence just had THE campaign stop of his VP run. Pouring rain, no umbrella, protesters heard from afar, great crowd energy, revved crowd"
"I can honestly say, in about five years covering politics, I have never seen anyone power through a speech in these kinds of conditions"
"Pence closing by invoking pledge of allegiance. The rain has ebbed now. This event was wild."
"There's something visually striking about a vice presidential candidate speaking in the pouring rain"
"Pence, up there in suit and tie with no umbrella, is getting seriously soaked. Much of crowd is hanging in there though."
"A lot of folks stuck it out here through the whole speech."
"Pence is plowing through this speech as though it were bone dry out here. For that matter, so is the crowd and the protesters."
"Pence press is also soaked"
After the rally Pence met with the press on the campaign plane.
"Pence came to back of the plane & talked to the soaked press/showed off his soaked note cards from this rally. People & notes are drenched!"
"Pence's stump speech cards were soggy after that rally, but he's holding out hope they'll live to see another rally"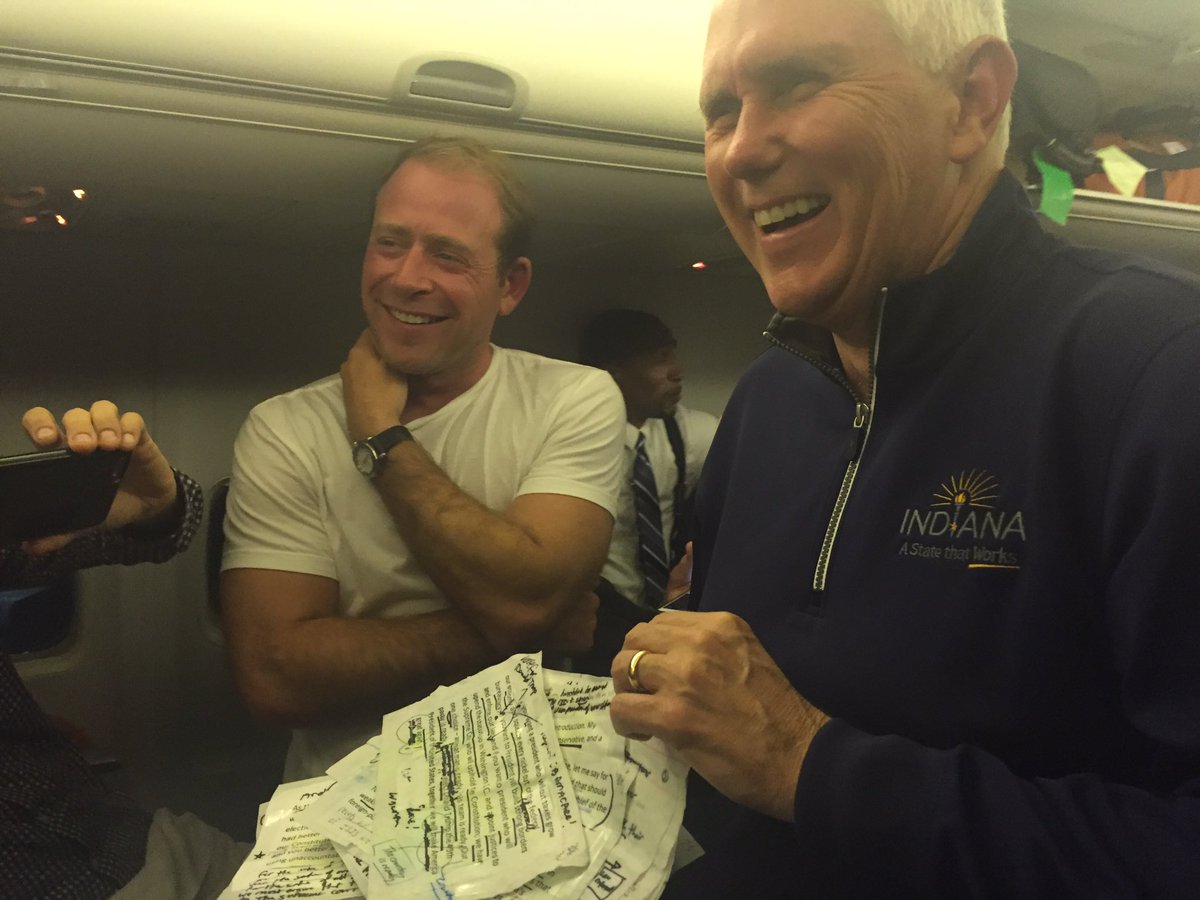 "Mike Pence uses flashcards on the stump.. Tonight, those got soaked"
".@mike_pence Came back on the plane to show off his soaked notes, thank the reporters for covering in storm, and hand out towels"
"Not even rain can stop Gov @mike_pence, hundreds of diehard suppprters in VA & the @realDonaldTrump movement."
"Pence told reporters he spoke to Trump post-rally: "650 people standing in the pouring rain. I told him we're going to win Virginia.""
Video of Pence's speech.
RELATED ARTICLES
Did you like this information? Then please consider making a
donation
or
subscribing
to our Newsletter.