The Fraternal Order of Police endorsed Donald Trump for president of the United States on Friday.
National President of the Fraternal Order of Police Chuck Canterbury stated, "Obviously, this is an unusual election."
He continued:
We have a candidate who decline to seek an endorsement and a candidate without any record as an elected official. Mr. Trump, however, has seriously looked at the issues facing law enforcement today. He understands and supports our priorities and our members believe he will make America safe again.
"Our National Board, and the more than 330,000 members of the FOP, acquainted themselves with Mr. Trump's answers to our survey," Canterbury said. "He took time off the campaign trail to meet with us to talk about our issues, our priorities. He's made a real commitment to America's law enforcement and we're proud to make a commitment to him and his campaign by endorsing his candidacy today.
"Donald Trump may not have ever been elected to public safety, but he is a proven leader and that's what we need for the next four years — a leader unafraid to make tough choices and see them through," Canterbury added.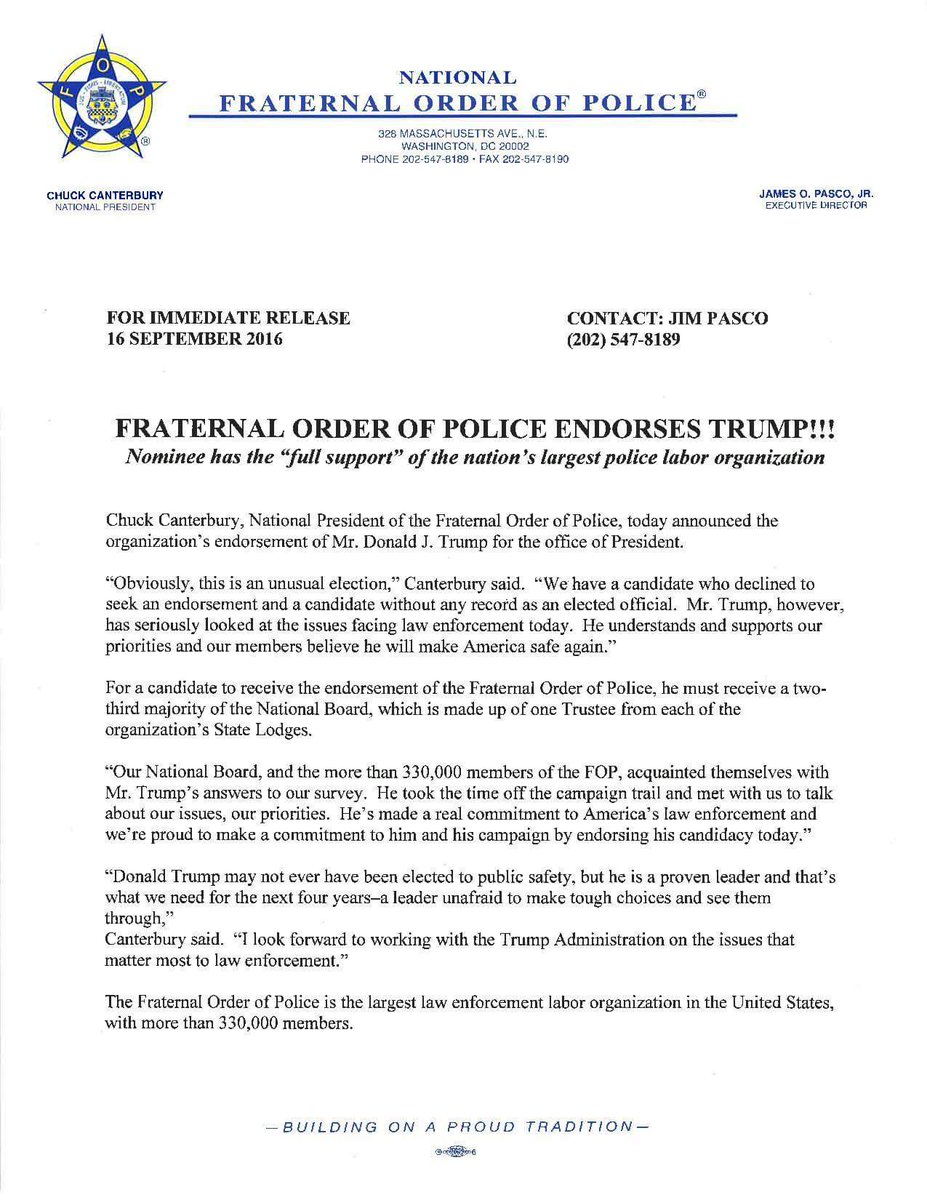 The Order harshly criticized Democratic presidential nominee Hillary Clinton in July for bringing the mothers of Trayvon Martin, Michael Brown, Eric Garner and other black men killed during confrontations, to speak at the Democratic National Convention while ignoring police families.
"The Fraternal Order of Police is insulted and will not soon forget that the Democratic Party and Hillary Clinton are excluding the widows, and other family members of Police Officers killed in the line of duty who were victims of explicit, and not implied racism, and 'being on duty in blue,'" their statement read.
"It is sad that to win an election Mrs. Clinton must pander to the interests of people who do not know all the facts, while the men and women they seek to destroy are outside protecting the political institutions of this country. Mrs. Clinton, you should be ashamed of yourself if that is possible."
Clinton brushed off the questionnaire sent to her campaign in August, the first candidate to snub the organization since John Kerry in 2004. She has also ignored families who lost loved ones serving as law enforcement officers to targeted murders while lecturing voters on their "racism."
A two-thirds majority vote of the National board is required for an endorsement from the Fraternal Order of Police. It's America's largest law enforcement organization and has more than 330,000 members.
RELATED ARTICLES
Did you like this information? Then please consider making a
donation
or
subscribing
to our Newsletter.