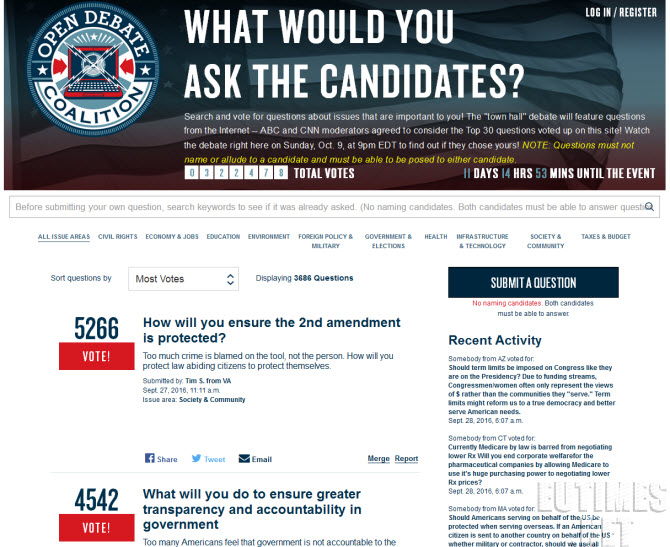 Viewers unhappy with the questions asked at Monday night's debate will have a shot to weigh in before Donald Trump and Hillary Clinton meet again on October 9: For the first time, the networks producing the town-hall style debate have agreed to accept questions voted on through the internet. Now that's true democracy! So join now, vote the question you like and submit your own question if you have one.

The Commission on Presidential Debates had already announced that the second of three debates would feature questions submitted online in addition to those asked by the traditional studio audience. But on Tuesday morning, the organizers confirmed they are embracing a format that a broad bipartisan cross-section of activist and civic groups known as the Open Debate Coalition have been pushing for years. Americans will be able to submit and then vote on questions online at PresidentialOpenQuestions.com, and ABC and CNN have agreed to consider the 30 most popular queries when they jointly plan the debate.
"This year's presidential debate moderators will have a rich pool of voter-submitted questions they can draw on that carry greater weight because they are backed by votes from the American people," Mike McCurry, a co-chairman of the Commission on Presidential Debates, said in a statement accompanying the announcement by the Open Debate Coalition.
The coalition tested out the format this spring during a debate between Representatives Alan Grayson and David Jolly, who were running in their respective party primaries for the U.S. Senate in Florida. The debate commission studied that debate and took note that both candidates praised the format, which featured more substantive questions on policy issues as opposed to those focused on electoral politics and the candidates' personal foibles.
Presidential primary debates have featured questions from YouTube, Facebook, Twitter, and other online fora in the past, but organizers believe the voting format will add "more moral weight" to the questions, said Adam Green, co-founder of the Progressive Change Campaign Committee, one of the groups backing the effort. Other members of the Open Debate Coalition include the conservative activist Grover Norquist, FreedomWorks, MoveOn, Ralph Reed of the Faith and Freedom Coalition, and Numbers USA, which backs more restrictive immigration policy. "There is a mutual frustration with presidential debate questions dominated by a handful of television personalities rather than average voters," Norquist said.
Lilia Tamm Dixon, director of the Open Debates Coalition, said the various groups plan to mobilize their activist networks to submit and vote on questions in the hope that Trump and Clinton will have to address their priority issues at the October 9 debate, which will take place at Washington University in St. Louis with moderators Martha Raddatz of ABC and Anderson Cooper of CNN.
Unlike in the "open" Senate debate in Florida, however, the networks have given themselves an out in agreeing to the voting format. They have agreed to consider the 30 most popular questions, but they aren't promising to ask them. That may be a hedge in case online voters want to hear the candidates opine on, say, Harambe, instead of more pressing matters like Social Security or tax policy. That's not what happened in Florida, where the most popular questions among more than 400,000 votes were those covering money in politics, the minimum wage, climate change, and other weighty issues.
RELATED ARTICLES
Did you like this information? Then please consider making a
donation
or
subscribing
to our Newsletter.