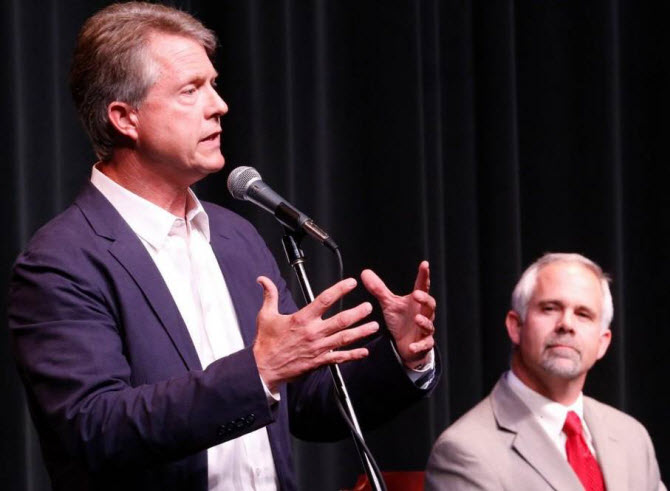 #NeverTrump Republican Tim Huelskamp was defeated Tuesday night in the Kansas primary. Tim Huelskamp was endorsed by Ted Cruz and was supported by the Club for Growth. Huelskank was one of those Ted Cruz "principled conservative" Tea Party RINOs who preached for mass illegal immigration from Mexico and other countries.
Tim Huelskamp had attacked the Republican leader Donald Trump over his positions on trade and immigration and mused that he couldn't vote for him in November.
Pro-Trump challenger Roger Marshall is up by 14% with 602 of 1338 precincts reporting.
In the debates however, both candidates made it clear they support Trump and vehemently oppose Clinton. But they offered contrasting approaches to a Trump presidency.
Roger Marshall said: "I will support the president and work with him to get things done."
Tim Huelskamp said: "One thing to know about Tim Huelskamp is I have conservative principles, and I'm going to stand on those conservative principles. If you don't have conservative principles, I will work against you."
It is worth noting here that Paul Ryan's primary is coming up on August 9th in Wisconsin. His challenger Paul Nehlen has been running on an outspoken nationalist platform. Also, John McCain's primary is coming up in Arizona on August 30th, and his challenger Kelli Ward looks interesting.
RELATED ARTICLES
Did you like this information? Then please consider making a
donation
or
subscribing
to our Newsletter.