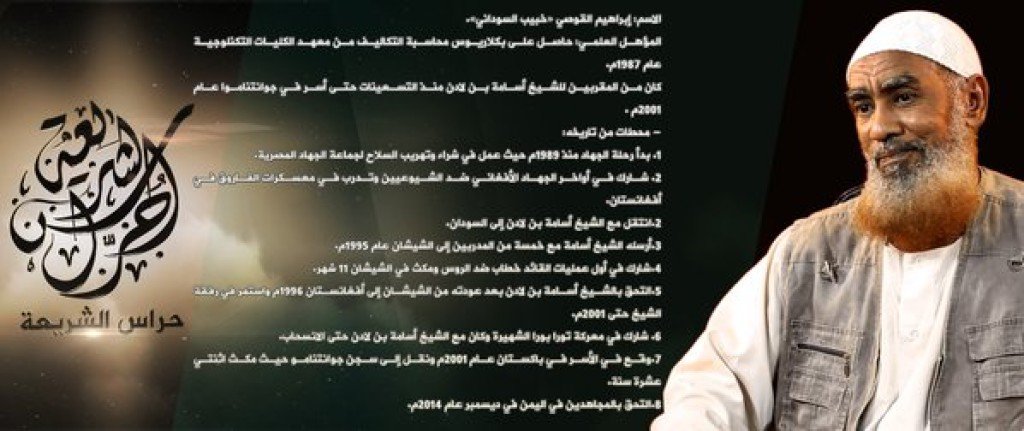 Barack Obama announced in February his plan to close Guantanamo Bay prison.
Obama told Yahoo in December that "only a handful" of Gitmo detainees has returned to a life of terrorism.
The actual number is closer to 196… So he was only off by 191.
Former Guantanamo detainee, Ibrahim Qosi, who is also known as Sheikh Khubayb al Sudani, is now an al-Qaeda leader in Yemen.
Former Gitmo detainee Ibrahim Ahmed Mahmoud Al Qosi promised "new and creative ways" of killing Americans in upcoming attacks.
Homeland Security Today reported:
As the Obama administration released 15 more high value Al Qaeda detainees from Guantanamo (GITMO), former detainee Ibrahim Ahmed Mahmoud Al Qosi — who was released in 2012 as part of a plea deal after pleading guilty to conspiracy and supporting terrorism and joined and immediately hooked up with Al Qaeda in the Arabian Peninsula (AQAP) in December 2014 – this week vowed attacks in the US by English-speaking jihadis with Western names not on CIA or FBI terrorist lists.
"[Attacks] will continue but will be [in] a creative and new way by men of your own [who] carry your names, speak your language, and did not receive training in Afghanistan, and whose names are not on the CIA and FBI black list – men who might have in the past drunk alcohol, eaten pork, or been soldiers in your army," Al Qosi, a member of AQAP's Shura council, vowed in an article published by Al Marsa, a weekly newspaper affiliated with AQAP.
He also "urged the mujahideen in Syria to unite and form a new army whose mission would be to liberate Al Aqsa mosque in Jerusalem," according to the Middle East Media Research Institute (MEMRI).
Homeland Security Today previously reported that Al Qaeda and its affiliated groups like AQAP were actively recruiting radicalized Westerners unknown to counterterrorism authorities who are able to travel freely throughout the West.
And on top of that, there's also ANOTHER former Gitmo detainee and current ISIS recruiter who was arrested in Libya.
On the same week that Barack Obama released fifteen more top al-Qaeda operatives from Gitmo the Libyan National Army arrested former Gitmo detainee Abu Nassim near Sirte, Libya.
Moez Ben Abdulgader Ben Ahmed Fezzani, 47, also known as Abu Nassim, is a top ISIS recruiter.
The Foreign Desk reported:
A senior Tunisian militant and Islamic State recruiter has been reportedly arrested in Libya, according to local media reports.
Zintani forces loyal to the internationally-recognized Libyan National Army arrested Moez Ben Abdulgader Ben Ahmed Fezzani 47, known by his nom de guerre Abu Nassim, last week as he was trying to flee Sirte, Libya for Tunisia.
A commander of ISIS militants in Libya since 2014, Fezzani had been sought by Tunisian authorities in connection with the March 2015 Bardo Museum attack in Tunis.
Twenty-two people including 17 foreigners were killed in the attack later claimed by the Islamic State.
Fezzani, along with 20 Islamic State operatives, was arrested by a police patrol while travelling between the towns of Rigdaleen and Al-Jmail.
News of his purported arrest comes just days after Libyan authorities warned their Italian counterparts about the possibility of an Islamic State cell in Milan with connections to the wanted militant.
Obama released 15 more Gitmo detainees last week.
Here is a partial list of Gitmo detainees who have returned to terror:
** Gitmo Detainees Re-Arrested in Russia
** Former Gitmo Prisoner Arrested for Terrorism in Moscow
** Three Former Gitmo Detainees Held in Morocco
** Former Gitmo Inmate Involved in Russian Terror Attack on Nalchik
** Former Gitmo Detainee Re-Arrested in Pakistan
** Seven Percent of Gitmo Detainees Return to Battlefield.
** Former Club Gitmo Detainee Carries Out Suicide Mission in Iraq
** Pentagon: 61 Gitmo Grads Returned to Terror
** Former "Rehabilitated" Gitmo Detainee Becomes Al-Qaeda Chief
** 2 Former "Rehabilitated" Gitmo Grads Appear in Al-Qaeda Movie
** 11 Former "Rehabilitated" Gitmo Grads Back On Saudi Most Wanted List
** American Teenager Murdered By Former Gitmo Detainee
** Breaking: Taliban's Top Officer in Southern Afghanistan Is Former Gitmo Detainee
** Former Gitmo Detainee Leads Fight Against US Troops
** Another Former "Rehabilitated" Gitmo Detainee Killed in Shootout
** Former Gitmo Detainee Now Al Qaeda "Spiritual Leader"
** Former Gitmo Detainees Lead Yemeni Al-Qaeda Group Linked to Detroit Bomber
** Former Gitmo Detainee Leads Insurgency in Southern Afghanistan
** Thanks Barack… Another Gitmo Detainee Returns to the Fold
** 25 Former Gitmo Detainees From Saudi Arabia Return to Life of Terror
** ONE WEEK AFTER PARIS TERROR ATTACKS – Obama Releases Five More Gitmo Detainees
** Former Gitmo Terrorist Arrested in Uganda; Suspect in Prosecutor's Shooting Death
** Two more Gitmo detainees arrested in terror raid in Belgium
** Former Gitmo Detainee Now an Al-Qaeda Leader in Yemen
RELATED ARTICLES
Did you like this information? Then please consider making a
donation
or
subscribing
to our Newsletter.