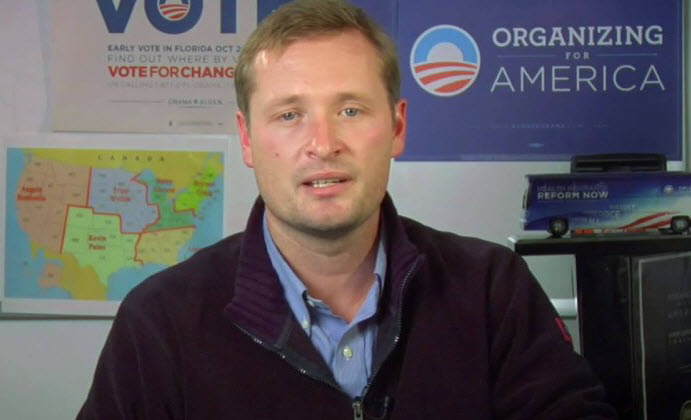 Senior Hillary strategist and former Obama campaign director Mitch Stewart says that the continuing popularity of Donald Trump can be attributed to one factor – "stupid white people."
Stewart, who is white himself, is the founder of 270 Strategies, a consultancy firm that worked with Clinton Super PAC Ready for Hillary.
He also served as Battleground States Director for President Obama's 2012 re-election campaign and was hailed by the Guradian as helping to build "a historic ground operation that will provide the model for political campaigns in America and around the world for years to come."
In a tweet, Stewart asserts, "Uneducated whites are keeping @realDonaldTrump at his current numbers. Stupid white people are the worst."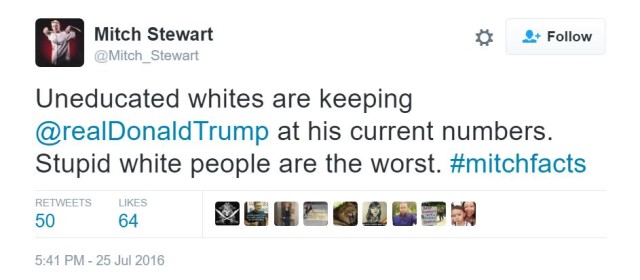 Hear that stupid white people? Vote for Hillary you stupid white sheep! You whites are all stupid idiots but we Democrats still want your votes!
These cuckold morons still think anti-white racism is cool in 2016. Hey moron, didn't you get the memo you cuck? Most whites no longer tolerate this BS and double standards. It's not the 90's anymore. Mitch, you think you're gonna earn more votes this way? See you in November! Why do cucks always have this name, Mitch? Is this Mitch name cursed or something? There's also grand master cuck Mitch McConnell whom we all "love" with a passion. I bet Mitch Stewart is the type of guy who likes to watch his wife getting banged by BBCs, double teamed and stuff and then he joins right in to lick the cream from her wife's flower. Truly disgusting!
Respondents were quick to fire back at Stewart's lazy racism.
"His numbers are up because of the corruption in the DNC and your illegitimate candidate Hillary," wrote one.
"Casual racism is OK as long as you support the right political party," added another.
Stewart subsequently admitted that he was an "elitist," before lecturing people on their spelling.
Stewart's tweet is emblematic of how the left arrogantly dismisses support for Donald Trump by characterizing the concerns of his voters as bigoted and ignorant, when in reality millions of white, blue collar Americans support Trump because they have been harmed by globalist trade deals that have gutted the country's industrial base.
The former Obama campaign director's jibe at "stupid white people" also correlates with Hillary Clinton's recent insistence that whites must recognize their so-called white privilege.
RELATED ARTICLES
Did you like this information? Then please consider making a
donation
or
subscribing
to our Newsletter.