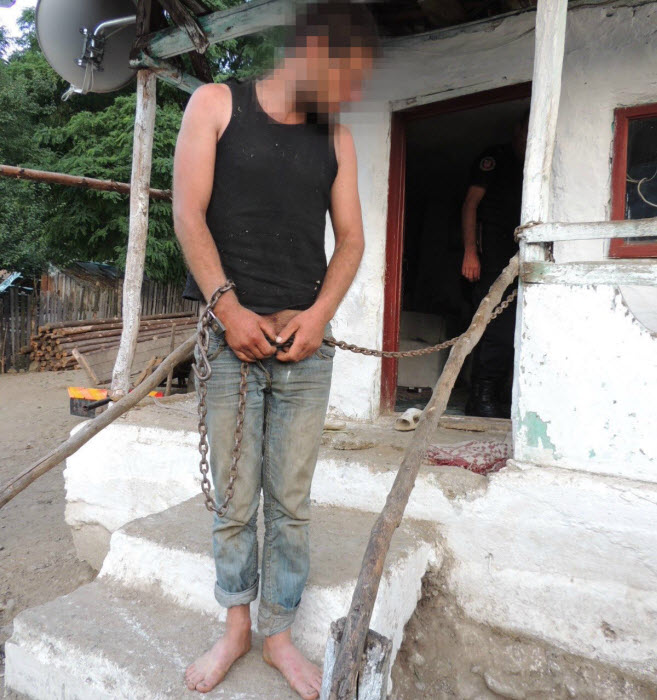 Dozens of vulnerable men and boys were kidnapped, chained, whipped, fed scraps and forced to work or fight each other for entertainment over an eight-year period in rural southern Romania, prosecutors said Wednesday.
Three men and two boys aged between 10 and 12 were found chained up and were rescued by police Wednesday in the mountain gypsy village of Berevoiesti during searches at the homes of suspects, members of an extended Roma GYPSY family. Organized-crime prosecutors said the investigation involves some 90 suspects who they say exploited around 65 people with physical and mental disabilities or who were very poor, making them log wood, beg or look after animals. Most of the slaves were native white Romanians, though some of them were also gypsies.
The village is a complete disgusting filth like any other gypsy village anywhere in the world and it looks like a caricature from Borat's videos which were actually shot in Romanian gypsy villages and not in Kazakhstan. The world is so focused on the Muslim problem these days that we are forgetting about a much more older problem. The gypsy problem…
Some 160 police and prosecutors took part in the raid Wednesday on the town, some 150 kilometers (95 miles) northwest of Bucharest.
Berevoiesti mayor Florin Bogdan told Digi24 television he had alerted authorities about suspicions of slavery in the town last year. Media reported investigators have been monitoring suspects for months and took action when the majority of suspects were at home.
A prosecutors' statement said some victims were snatched from railway and bus stations, outside churches or even from their own homes and transported to private homes by members of the group. Some of them performed domestic chores while others were made to transport and sell wood that was the product of illegal logging.
It said the captives were sometimes held in chains, whipped, beaten and threatened, refused food or made to eat off the ground, and coerced into fighting each other for entertainment. They were locked up overnight to prevent them escaping. Some were stripped naked and doused with hot or cold water. Unfortunately some were raped or sexually abused and even tortured.
One youngster told Digi24 he had had received just 10 lei ($4.20) a week for cleaning horses and other work.
Valentin Preoteasa, chief prosecutor at the Pitesti office, called the case unprecedented. "It is shocking to hear this in the 21st century," he told The Associated Press by telephone, adding he had immediately poured his office's resources into the probe. "All five prosecutors in the Pitesti office are working on the case," together with police officers, he said.
Preoteasa said the victims have been housed in centers and given food, showers and beds. He could not say how many were children.
Spokeswoman for the prosecutor's office Mihaela Porime said some of the youngsters had their identity papers and birth certificates confiscated.
Preoteasa said investigators have located about 30 suspects, including women, and are in the process of questioning them. Police carrying out the searches confiscated 228,000 lei ($56,300), about one kilogram (2.2 pounds) of gold, nine chainsaws and three trucks that they said were used in the criminal activity.
The laws in Romania are very soft and permissible, thus they risk only up to (so it could be less than that) 20 years in prison for this horrendous crime.
According to multiple sources the slaves were also tied to horses and dragged throughout the village whenever they disobeyed their gypsy masters. Every single villager knew what was happening yet no one reported anything to the police and upon police arrival in their filthy village, no one recognized anything. Everyone said that they didn't see or hear anything.
The gypsies were thought to be doing this since at least 2008.
Gypsies are Indian nomadic people who were banished from India centuries ago for extreme criminality, thievery and all sorts of illegalities. During their travelings they finally settled in the Eastern Balkan region of Europe some 200-300 years ago. They are mostly found in Romania, Bulgaria, Hungary, Serbia, Slovakia and Greece making up to 10-15% of the population of these countries though they have spread everywhere in the world in recent years, causing all sorts of crimes for which their nation of origin always gets the blame.
UK press for example always report such news with titles like "Romanians were caught doing…." when in fact the news stories should be like "GYPSIES from Romania were caught doing…." whatever they did. Gypsies were in fact one of the main reasons Britons voted for Brexit.
Gypsies changed their name to "Roma people" or "Romani people" in the early 2000s in a bid to create confusion between themselves how now call themselves "Romani", Romanian, Rome the capital of Italy, Roman Empire and so on. The European Union strongly came out in support for this name change and back in 2010 they were extremely furious when the Romanian government was planing to rename them back to what they are "gypsies".
Both Romania and Bulgaria did try many times throughout the years to banish the gypsies but the Western Human Rights Groups always came in defense of them calling the Romanians, Bulgarians and Hungarians as"racist".
RELATED ARTICLES
Did you like this information? Then please consider making a
donation
or
subscribing
to our Newsletter.