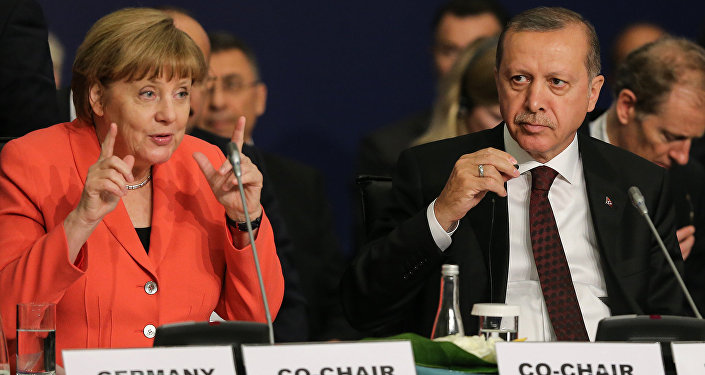 An array of Russian and Turkish politicians gave their thoughts on Vladimir Putin receiving a letter from Turkish President Recep Tayyip Erdogan with apologies for Ankara downing a Russian warplane last year.
Turkish President Recep Tayyip Erdogan has, at long last, apologized to Vladimir Putin for his air force's move to shoot down a Russian Su-24 bomber over Syria, prompting a host of Russian and Turkish politicians to comment on the matter.
Russian Upper House Speaker Valentina Matviyenko said that despite the delay in delivering the apology, Erdogan's message could contribute to resuscitating relations with Ankara.
"Of course, it is a pity that the apology came late, but it's better late than never as they say. Although credibility in our relationship was lost during this time, Erdogan's message may be the basis for defrosting and gradual recovery of Russian-Turkish relations," she was quoted by RIA Novosti as saying.
Mikhail Fedotov, Chairman of the Russian Presidential Council for Civil Society and Human Rights said that the delayed apology means that "tremendous efforts of both sides are now needed to restore bilateral ties."
"It is a good thing that the Turkish President extended formal apologies but 'a spoon is dear when lunch time is near' as they say. If the apology appeared immediately after the death of the Russian pilot, I am sure that this conflict would not have been driven so deep. In any case, Turkey's step is of great positive significance," Fyodorov told RIA Novosti.
Konstantin Kosachev, head of the Russian Upper House's International Affairs Committee, said in an interview with RT that Erdogan's decision was caused by his flops in foreign policy.
"It is absolutely obvious that Turkish foreign policy has failed in almost all directions, and Erdogan now needs every small political victory so that he can claim them as his own," he said.
He remained downbeat about the normalization of Russian-Turkish relations in the near future.
"Under the current Turkish authorities, speaking of normalizing bilateral ties is irrelevant, and I cannot imagine how we are going to restore the trust that has been lost," Kosachev said.
The head of Russia's Chechen Republic Ramzan Kadyrov, for his part, urged Turkish authorities to bring all those responsible for the incident with the Russian plane to justice.
"We express the hope that the Turkish side will deliver on its promise to resolve the problem by compensating for damage and bringing the perpetrators to court," he wrote in his Instagram account.
Igor Morozov, a member of the Russian Upper House's International Affairs Committee, said that relations between Russia and Turkey will be discussed at a ministerial meeting of the Organization of the Black Sea Economic Cooperation (BSEC), slated for July 1 in Sochi.
"By apologizing for the downed Su-24, the Turkish President took the first step. Further terms of the normalization of our relations will most likely be resolved in a package deal, due to be discussed at a BSEC gathering in Sochi, attended by Turkish Foreign Minister Mevlut Cavusoglu," he said.
Daoud Khairallah, Professor of International Law at Georgetown University, told RT that that Erdogan's letter of apology to Putin will help defuse regional tensions.
"Erdogan's apology for the downed aircraft and the death of the Russian pilot is a positive step. What's more, the hope is that the message will contribute to maintaining peace in the region, given Turkey's role in fuelling the conflicts in Syria and Iraq," he said.
Former Turkish ambassador to the United States Osman Logoglu said that Erdogan made the right decision, which he said will be good for Turkey; he added that Erdogan's apology will help allay NATO's concerns about a possible confrontation with Russia.
"I think Turkey made a wise decision by revising the existing relations with neighboring countries, including Russia. Erdogan's apology, which was extended on the eve of the NATO summit in Warsaw, will add to defusing the situation in the alliance," he said.
Former Turkish Foreign Minister Yasar Yakis said in an interview with RT that the apology should become the first step in restoring Russian-Turkish relations.
"Seven months means nothing. I wish he would have done it right from the start, but better late than never. I think that Russia will react in a positive way, and we will gradually ride out of the protracted crisis, something that is the interest of both countries,"he said.
Meanwhile, the Washington Post has reported that "one of the region's most autocratic politicians ultimately started to deal with foreign policy conflicts that have accumulated in the past few years."
The news website Atlantic, in turn, touted Erdogan's apology as a "significant" step which it said means that "Erdogan is looking to end Turkey's diplomatic isolation."
Some media outlets cited "geopolitical calculation," which they said prompted Erdogan to extend apologies to Moscow, which currently remains a major international player, capable of settling the Syrian conflict, in which the Turkish president has his own interests.
RELATED ARTICLES
Did you like this information? Then please consider making a
donation
or
subscribing
to our Newsletter.