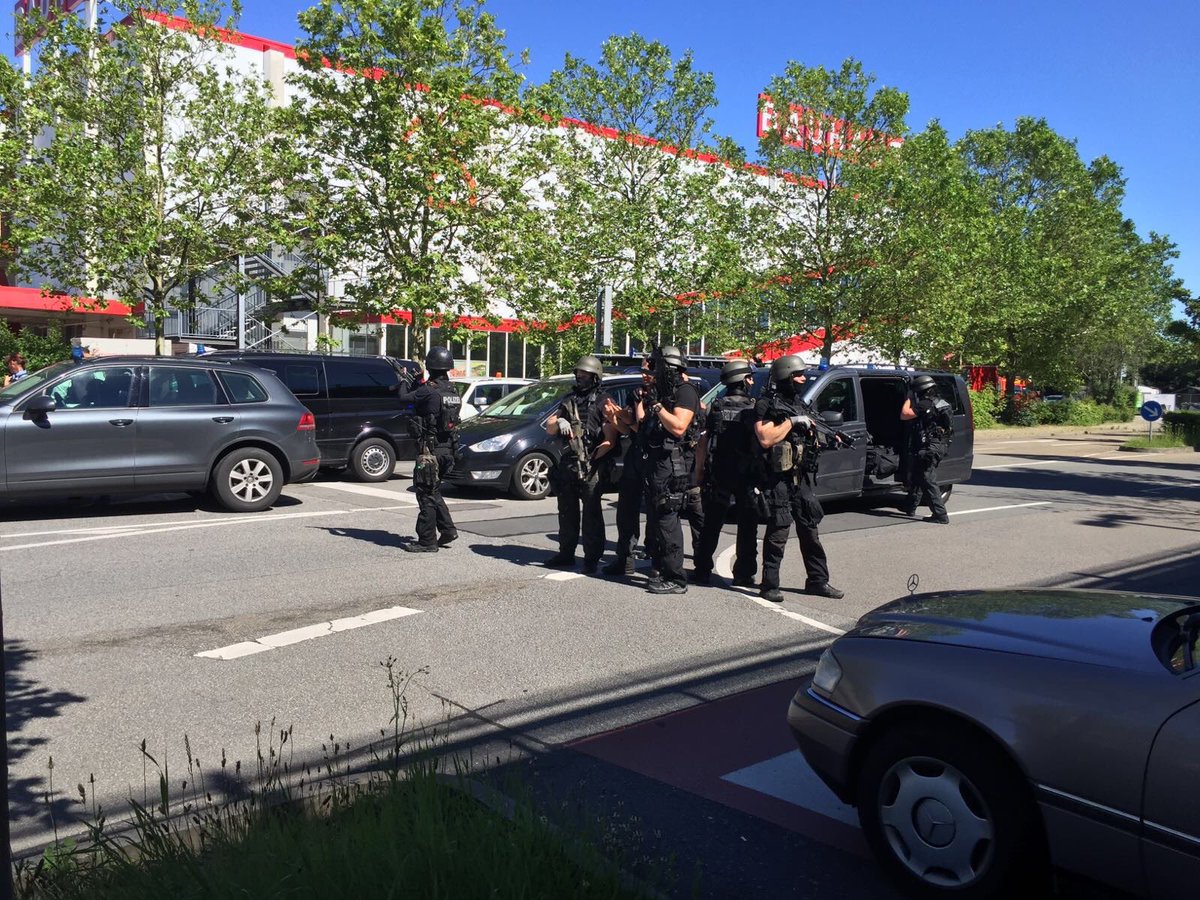 An armed man was killed by police after taking hostages inside a cinema complex in Viernheim, western Germany, local officials confirmed, adding that no one was hurt in the incident. Previous reports said the man had fired a gun, injuring up to 50 people. As of this moment both the German authorities and the German police are hiding the terrorist's identity and refuse to answer questions. The German authorities have been caught before in Cologne covering up the identities of the Muslim rapists during the New Year's Eve. We have no proof on this whatsoever but it is safe to 100% assume until proven otherwise that the Viernheim terrorist is a Muslim.
The interior minister of the German state of Hesse, Peter Beuth, confirmed that the man was shot and killed after police stormed the complex.
The man reportedly entered the Kinopolis cinema wearing a mask and a cartridge belt around his shoulder.
Beuth said the man was armed with a rifle. Germany has one of the strictest gun-laws in the world. It is virtually impossible to get a gun in Germany yet this terrorist not only obtained a gun, but he obtained a rifle. The Democrats in America want to ban guns and destroy the 2nd Amendment as if that would solve anything. Trump was right! It won't solve anything, bad guys always get their guns illegally on the black market no matter how strict the laws are. Gun rights in America are there for a reason, so its citizens can defend themselves against both criminals and oppressive governments. Banning guns would not solve anything, just look at Germany, France and Belgium. With that said, there should be background checks and people with severe mental disorders and who hold fanatic beliefs such as Radical Islam should be banned from owning guns.
"The police had an emergency call at 2:45pm (12:45 GMT). The caller said there was a masked man…armed with a long gun. It is unclear whether it was a real gun," Beuth told the Hesse parliament.
"The caller heard four shots and said that the masked man appeared a little mentally unstable. Police special forces were called."
Police arrived at the scene shortly after the initial reports, including a number of officers from the SEC special task force. The area was cordoned off by authorities.
Initial reports stated that the man had fired shots at people inside the building, and that between 20 and 50 people had been injured.
The man then reportedly barricaded himself inside the premises.
However, Focus later reported that the man was armed with a blank weapon, and that people were only hurt by tear gas.
Police confirmed to Germany's N-TV channel that the man appeared to have no terror background. Beuth referred to the man as a "disturbed individual."
Dr. Paul Lashmar from Sussex University told RT that the whole incident in Viernheim looks "random."
It's now important to figure out if the perpetrator's actions were a manifestation of mental illness or a terrorist attack, he said.
The rapid reaction of the German security force indicates that country is prepared for dealing with such attacks, Lashmar stressed.
"Germany has been on alert for years. The whole of Central Europe is on high alert, watching for this kind of things – very hard to deal with when they pop up. This isn't a major city… so that fact that the police managed to get armed people there fairly quickly must be a bit of a tribute to them," he explained.
RELATED ARTICLES
Did you like this information? Then please consider making a
donation
or
subscribing
to our Newsletter.