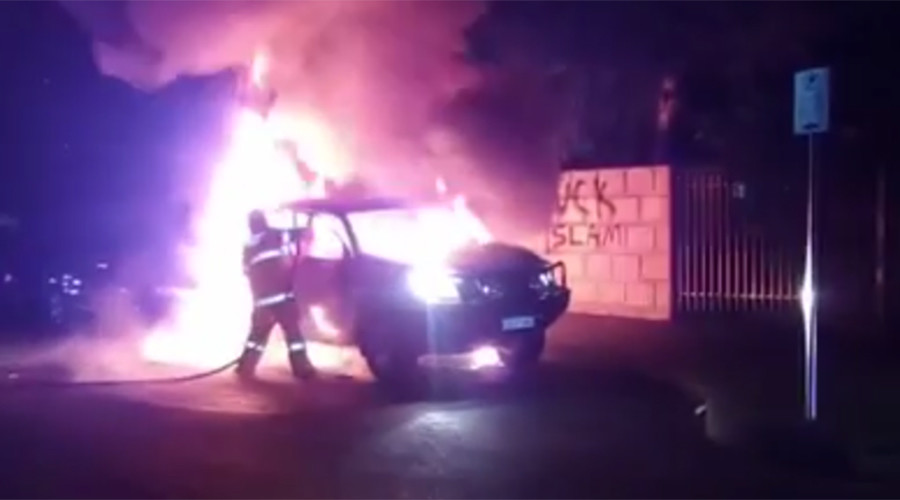 A petrol bomb exploded outside a mosque at the Australian Islamic College in Thornlie, southeast of Perth, while hundreds of Muslims were inside for evening prayer. An anti-Islam message left on the mosque wall indicates the attack was motivated by hate.
The hate crime took place on Tuesday night at around 8 pm local time.
Hundreds of worshippers were inside for their daily evening prayer when they heard a loud bang, according to the West Australian.
They rushed outside and saw a burning Toyota Prado and three people running down an alleyway next to the college. Later they found an offensive message reading "F**k Islam" sprayed on the mosque wall behind the burning vehicle.
It is believed that the petrol bomb may have been placed in a parked car outside the mosque before it exploded. The police say an accelerant was used to start the fire. The car was completely gutted, and four other vehicles were damaged by heat.
No one was injured in the attack, but the school has been vandalized numerous times over the past few years, Dr. Abdullah Khan, the principal of the Australian Islamic College, told Perth Now news outlet.
"The way I see it, it was more targeted at people praying than the school, because the school was not in operation at that time," he said, adding that the college has CCTVs, teaching staff on duty, and a security company operating after hours.
Khan said the school would operate as usual despite the attack. "We have given [the parents] instructions that it is business as usual and children should come to school as they do every single day," he said.
Muslim parents at the college say they are worried about their children, but believed an attack like this was bound to happen. "We get a lot of hatred, just racism really," a mother named Zahra Alasadi said.
Last year, Australia's Human Rights Commission recorded a dramatic spike in attacks against Muslims. Australian Muslims have been subject to regular "racial"??? and religious vilification, which is both spoken and printed in offensive letters and pamphlets.
As usual the Muslims are using the word "racism" as if Islam was a race of people. Islam is a primitive cavemen-like religious/political ideology and belief system. Islam is not a race, anyone can be a Muslim, white, black, Asian, Arab, anyone! Therefore being anti-Islam cannot be racist and just associating the word "racist" with Islam is neuron killing. Even if you are trying to think about these 2 words put together in the same sentence, your neurons will die instantly because there's too much stupidity here. Muslims are purposefully using the "racist" term because they know dumb white liberals are immediately guilt-tripped by the term.
RELATED ARTICLES
Did you like this information? Then please consider making a
donation
or
subscribing
to our Newsletter.