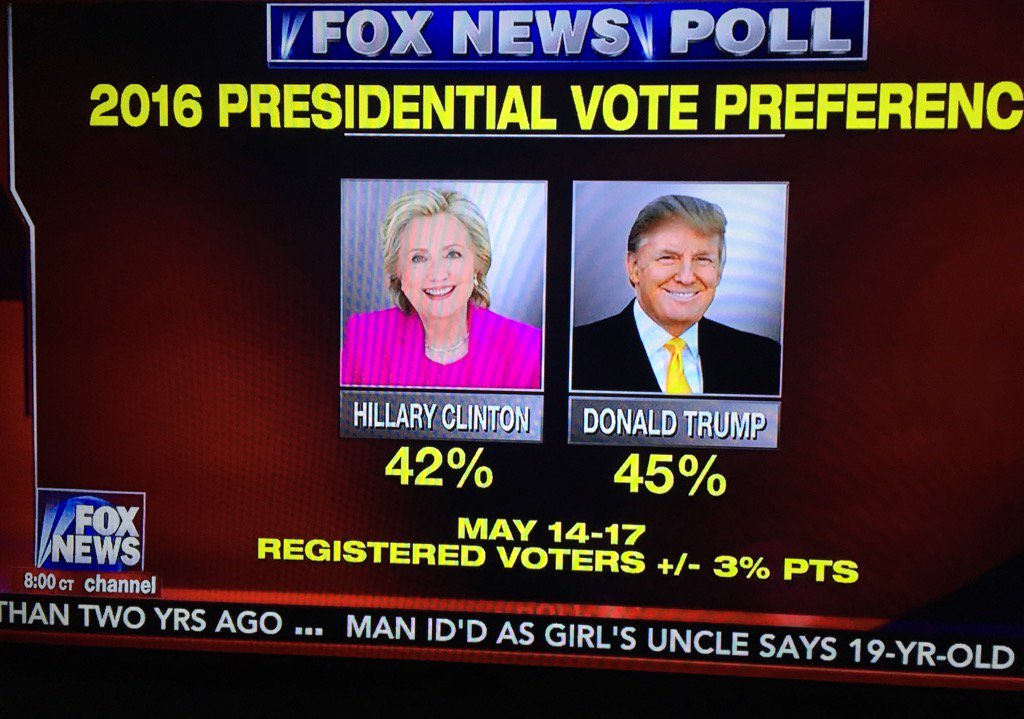 Donald Trump is now viewed more favorably than Hillary Clinton in the latest FOX News poll.
The GOP nominee's unfavorable rating is not at 56%. That is an improvement of 9% from two months ago.
Trump leads Clinton 45-42 in the latest FOX News poll.
FOX News reported:
American voters dislike Hillary Clinton and Donald Trump.
A record 61% have a negative view of the likely Democratic nominee, according to a Fox News poll released Wednesday. That's up from 58% in March.
56% have an unfavorable view of Trump, though that's actually good news for Donald. Because it was 65% two months ago (that was a record high).
37% have a favorable opinion of Clinton, down two points from 39% in March, establishing a new low. The likely Republican nominee's favorable jumped over the same time period: 41% view Trump positively, up from 31% in March.
Trump's relationship with women has also improved significantly. The poll also found Republican women are almost twice as likely to have a positive opinion of Trump. And it keeps improving. Currently, 65% of GOP women view him favorably, up from 55% in March 2016 and 49% in September 2015. Only 31% view him negatively today.
RELATED ARTICLES
Did you like this information? Then please consider making a
donation
or
subscribing
to our Newsletter.