Donald Trump won the Arizona Republican primary with 47% of the vote to second place Ted Cruz with 25%.
Trump won all 58 delegates in Arizona.
But that didn't stop the Cruz campaign and GOP elites from coming in and poaching all of the delegates at today's state convention.
The Cruz camp and GOP elites call this a "good ground game."
Even former Governor Jan Brewer, an outspoken Trump supporter, had her name removed from the online ballot and did not make the cut.
Trump supporters are once again crying foul.
KTAR reported:
Texas Sen. Ted Cruz pulled out a strategic victory at Saturday's Arizona Republican Party convention, nailing down a large majority of delegates to the national convention amid cheating accusations from backers of businessman Donald Trump.
The Cruz slate won virtually all of the 28 at-large national delegates and roughly split the 27 delegates selected by congressional district.
Former Gov. Jan Brewer, losing her first election in 35 years, angrily yelled "I got cheated — I got cheated," as the results became known.
Gov. Jan Brewer Tweeted: "My name was "mysteriously" removed off Donald Trump online ballot. Today's electronic vote full of glitches and errors. Cheated today!"
Ted Cruz was mathematically eliminated this week.
If his supporters think they can steal the nomination from the Republican candidate with the most votes EVER, they truly are delusional.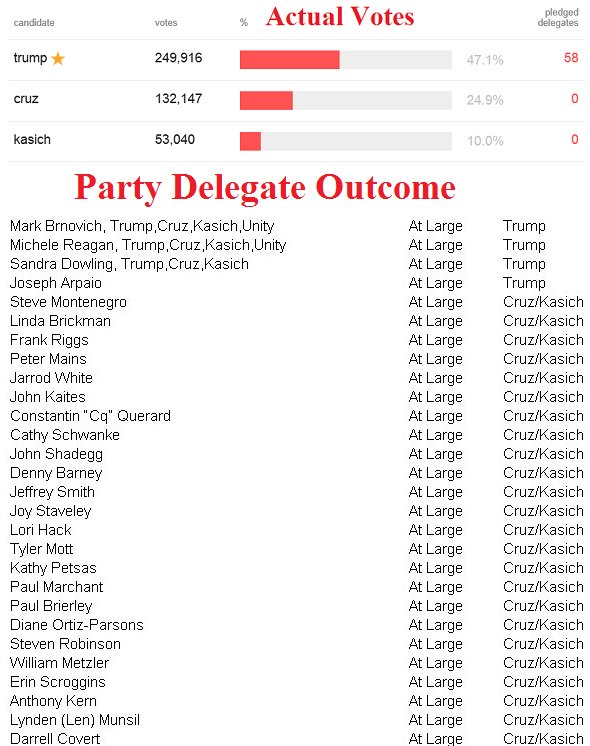 RELATED ARTICLES
Did you like this information? Then please consider making a
donation
or
subscribing
to our Newsletter.