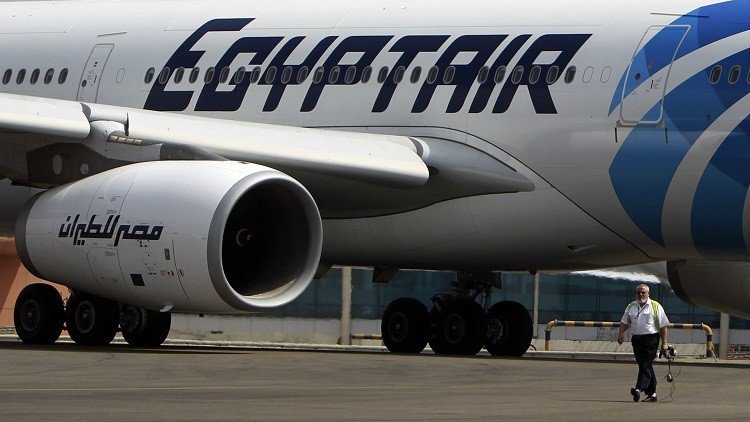 Human remains retrieved from the Mediterranean Sea and examined by a team of experts point to an explosion taking place on board the aircraft, Egyptian forensic sources told media.
An official who has personally examined the remains at a Cairo morgue told AP on condition of anonymity that the forensics team has to deal with very small body parts.
"There isn't even a whole body part, like an arm or a head," the official said.
"The logical explanation is that it was an explosion," the source added, while also mentioning that the experts had so far been given around 80 small body parts to investigate."
"The size of the remains points towards an explosion, the biggest part was the size of a palm. Some of the remains started arriving on Sunday in about 23 bags," a forensics official told Reuters.
The official said that no traces of explosives have been found yet that would suggest that a bomb caused the plane to crash. The team is expecting more body parts to arrive soon so that they continue with their forensic examination in trying to find out what caused the crash.
Family members of the disaster victims turned up at the Cairo morgue to give DNA samples to help the forensics department identify the remains of those who passed away, AP reported.
The Airbus A320 crashed early on Thursday morning around 170km from the Egyptian coast in the Mediterranean Sea, having taken off from Charles de Gaulle Airport in Paris.
The plane was carrying 66 people, which comprised 56 passengers and 10 crew members. Of the passengers, 30 were Egyptian, 15 French and two Iraqi, with one from each of Algeria, Belgium, Britain, Canada, Chad, Kuwait, Portugal, Saudi Arabia and Sudan.
Egyptian President Abdel-Fattah el-Sisi said that authorities are working hard to find the plane's black boxes. Cairo deployed a submarine over the weekend to search for wreckage from the plane.
He added that at this stage of the investigation "all scenarios" of plane crash "are possible."
"So please, it is very important that we do not talk and say there is a specific scenario," Sisi said. "This could take a long time but no one can hide these things. As soon as the results are out, people will be informed."
US Presidential candidate Donald Trump was the first politician in the world to denounce the EgyptAir Flight 804 crash as a "terrorist act". Liberal American presstitute media, the scum of the Earth which is in free fall due to alternative media taking over, was quick to come out and bash Trump "racist, Islamophobic, there's no proof, how could he say that without proof, before the investigation even taking place, blah blah blah, we are handicapped, retards, Trump is racist, blah blah, we are retarded moron imbeciles, don't listen to Trump, listen to us, blah blah." You know, the standard socialist-liberal American brainwashing propaganda.
They kept bashing Trump and invited him on their disgusting TV shows where they tried to force Trump to basically REPENT his Tweet where he called the incident a "Islamic terrorist act". They've tried to corner him saying stuff like "if Trump doesn't repent his Tweet he's a racist", as if Islam is a race of people and not a religion but that's another story…
As usual, Trump firmly stood his ground and in fact continued to solidify his statement by adding that "planes do not just fall out of the sky like that without a reason, I know the Airbus A320, its a tremendous plane with one of the best maintenance programs in the world, I totally rule out a technical failure".
7 hours AFTER Trump Tweeted about the terrorist attack on EgyptAir Flight 804 and naming it for exactly what it was, Crooked Hillary Clinton also Tweeted something similar to Trump, saying that "it does appear to be a terrorist attack", yet not a single socialist presstitute journalist ever questioned Her Loyal Highness Crocked Hillary, no one bashed her nor did anyone forced her to repent.
RELATED ARTICLES
Did you like this information? Then please consider making a
donation
or
subscribing
to our Newsletter.