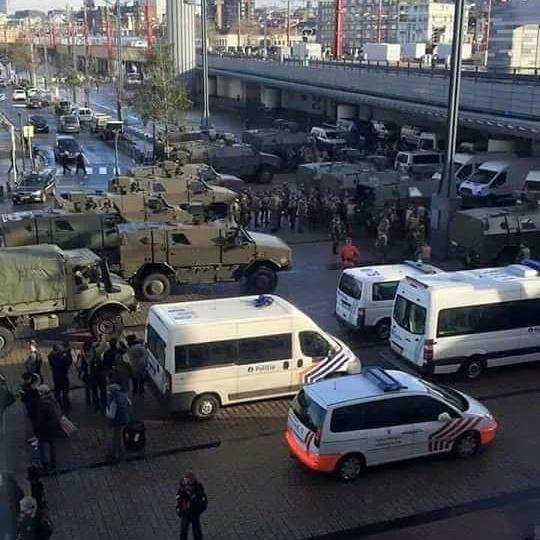 At least two armed far-right activists with Molotov cocktail have been arrested in the Molenbeek district, the notorious terrorist breeding ground of the Belgian capital, Belgian media reported.
The individuals were in a car when they were arrested, Belgian RTBF reported.
An anti-fascist protest was staged by leftist activists in the Place de la Bourse in central Brussels, Belgian RTBF said.
At least 10 people were detained following the rally, including Alexis Deswaef, the president of the League of Human Rights. Later, police temporarily closed the area. Police made 19 arrests at the Place de la Bourse, according to RTL.
"When I arrived, police told me to leave, adding that gatherings of extreme left and extreme right are prohibited. I explained that I was present [at the rally] as a private citizen, but I was still arrested," Deswaef later told the Belga news agency.
At least 250 police officers have been deployed to the scene of the protest in Place de la Bourse, media said.
On Friday, Minister-President of the Brussels-Capital Region Rudi Vervoort called to ban all demonstrations in the Belgian capital.
Various far-right groups, including the anti-migrant Generation Identitaire movement, called for demonstrations in Molenbeek on Saturday. Leftist groups have called for counter-rallies. Though the demonstrations were banned in Brussels following the March attacks, several rallies still took place in Belgian capital.
Belgium has been recently on high alert following the attacks in Brussels Zaventem Airport and Maelbeek metro station that rocked the Belgian capital on March 22. The attacks left 35 people dead and over 270 injured.
The Belgian prosecutor identified two suicide bombers as brothers Khalid and Ibrahim El Bakraoui. According to Belgium's RTBF public broadcaster, both brothers, residents of the capital, were known to police for links to organized crime, but not for terrorism.
RELATED ARTICLES
Did you like this information? Then please consider making a
donation
or
subscribing
to our Newsletter.