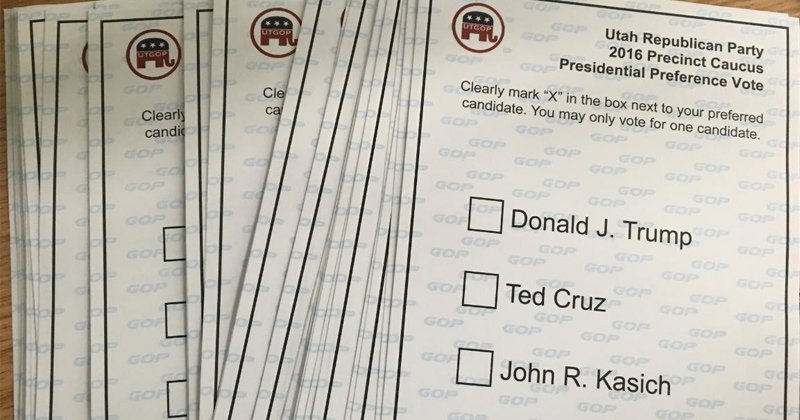 A GOP caucus in Utah reportedly handed out multiple ballots to voters – and never bothered to check the IDs or credentials of the voters.
One of the voters described the caucus as a vote with "no apparent controls, no credential checks, no ID checks and ballots being handed around like napkins," with at least 250 ballots passed out to only 120 voters.
"I literally had over 50 ballots in my hand," the voter wrote on the Godlike Productions forum. "We were told to mark our vote and place our ballot in a tin can."
"They then asked for a volunteer to hold the can and at this point, most people filed out the door."
And when he went to visit another precinct caucus, he was handed another ballot without being asked for ID.
"As I left the building, I started overhearing results coming back from other precincts: Overwhelmingly numbers for Cruz, like 70-90% or more," the voter added. "In one precinct Cruz got around 100, Trump had 2, Kasich 0."
"Bottom line: They basically are going to post whatever the hell numbers they want."
There were similar reports of voter fraud and outright lies in Iowa.
For one thing, Marco Rubio was polling at a distant third, yet he managed to finish just one percent behind Trump, and the voting machines used were provided by Microsoft, a major Rubio supporter.
And then the Cruz campaign lied to Iowa voters by claiming Ben Carson was dropping out of the race prior to the vote.
"The Cruz people willfully planted a story on CNN and MSNBC that Ben Carson was getting out of the race and prior to that they have prepared an enormously expensive targeting of a voter identification program of phone numbers and e-mails of those who were for Carson," election insider Roger Stone revealed. "Those people were then contacted in the hours before the caucus and told 'CNN has reported Carson is getting out – switch your vote to Cruz!'"
Insider: Cruz Campaign Encouraged Utah Voters to Break Law
The Ted Cruz campaign reportedly encouraged absentee voters to slip in their ballots without proper documentation.
A Utah voter received the following e-mail apparently from the Cruz campaign:
If an absentee voter follows these instructions, he would risk violating Utah voting laws which state that absentee voters must submit an application form the Thursday before the primary.
Voters cannot simply decide to vote "absentee" the day before the election and print off a ballot without having filed an application beforehand, which these instructions imply.
"All completed absentee ballot application forms should be filed with the appropriate election officer [County Clerk's Office] no later than the Thursday before election day," Vote.utah.gov says in no uncertain terms. "Military and overseas ballots will be mailed by 45 days before an election; all other by-mail ballots will be mailed 28 days before an election."
Proper instructions on how to "vote absentee" legally would have mentioned the application form and would have been sent out long before the primary.
The e-mailed instructions, on the other hand, seem to prey on the ignorance of Utah election officials, many of whom are inexperienced volunteers.
The voter who received the e-mail and posted it at Godlike Productions said the e-mail encouraged "total fraud."
"First, I served several years in a leadership role in the Utah Republican Party, so I know a few things about the process," he said. "There are only two things that will happen if people show up with ballots like this:
1) It will slow down voting while volunteers try to figure out wtf to do with these ballots. Hopefully, if people are doing their jobs, these will be thrown out.
2) The more likely scenario is, in the chaos, volunteers will just take the ballot and submit it with the rest of the ballots."
"If you do this, you are participating in voter fraud," he warned.
The Cruz campaign has a history of unethical behavior, such as misleading Iowa voters into thinking Ben Carson had dropped out of the race so they would vote for Cruz.
RELATED ARTICLES
Did you like this information? Then please consider making a
donation
or
subscribing
to our Newsletter.