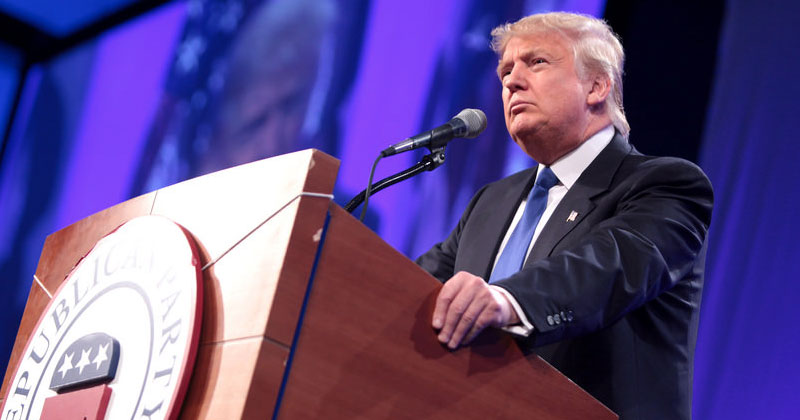 Republican presidential candidate Donald Trump said he was "honored" with his second place finish in the Iowa caucuses and vowed that he will win the nomination and beat "whoever the hell" the Democrats nominate in a speech in Iowa on Monday night.
Trump said, "[O]n June 16th, when we started this journey, there were 17 candidates. I was told by everybody, 'Do not go to Iowa. You could never finish even in the top ten.' And I said, 'But I have friends in Iowa. I know a lot of people in Iowa. I think they'll really like me. Let's give it a shot.' They said, 'Don't do it.' I said, 'I have to do it.' And, we finished second, and I want to tell you something, I'm just honored, I'm really honored."
Trump then congratulated all the other candidates, mentioning Iowa's winner Texas Senator.
Sen. Ted Cruz (R-TX) and former Arkansas Mike Huckabee, who suspended his campaign, by name.
After thanking his staff and family, Trump stated, "We have a poll, we're 28 points ahead, okay? New Hampshire. We love New Hampshire. We love South Carolina. And we're leaving tonight, and tomorrow afternoon, we'll be in New Hampshire, and that'll be something special. It's going to be a great week, and we're going to be up here next week. And I think we're going to be proclaiming victory, I hope." He added, "I don't know who's going to win between Bernie and Hillary. I don't know what's going to happen with Hillary, she's got other problems, maybe bigger than the problems she's got, in terms of nominations, but we've had so many different indications, and polls that we beat her, and we beat her easily. And we will go on to get the Republican nomination, and we will go on to easily beat Hillary, or Bernie, or whoever the hell they throw up there."
RELATED ARTICLES
Did you like this information? Then please consider making a
donation
or
subscribing
to our Newsletter.