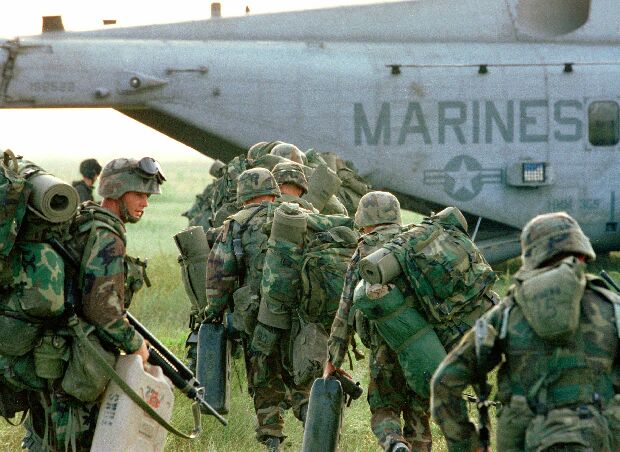 A grim Security Council (SC) report circulating in the Kremlin today states that Ministry of Defense (MoD) officials were "stunned" last week after a Turkish Air Force fighter jet operating within its own airspace fired upon and downed two CH-53 Sea Stallion helicopters being flown by the US Marine Corps Forces Special Operations Command (MARSOC) over Kurdish held territory in the eastern Syrian "department" of the Levant War Zone killing all 12 of the American military troops on board.
According to this report, on 14 January, these two MARSOC helicopters departed from Ayn al-Asad Airbase in Iraq for a "normal/routine" re-supply mission of US Marine and British Special Forces troops currently embedded with Kurdish Peoples Protection Unit (YPG) fighters battling Islamic State (ISIS/ISIL/Daesh) terrorists near the Turkish border in north eastern Syria near the city of Raqqa when this "war crime" occurred.
Immediately upon Federation Aerospace Forces detecting this Turkish "unprovoked" attack upon these two MARSOC helicopters, this report continues, Russian commanders notified the Combined Air Operations Center (CAOC) at Al Udeid Air Base in Qatar advising the American's of their willingness to assist in search and rescues missions, but which the US commanders stated they did not need as their own TRAP forces (tactical recovery of aircraft and personnel) had already been alerted.
Most outlandishly, this report notes, is that within 5 hours of Turkey shooting down these two MARSOC helicopters in Syria, Aerospace Forces satellites monitoring the Pacific Ocean region detected what they believed at the time to be an unannounced test of a US Navy RIM-8 Talos missile in the waters surrounding the Hawaii Islands—but which within two hours of its firing and exploding the US Navy announced two of its CH-53 helicopters had "crashed", and just yesterday announced they had ceased attempting to find either these aircraft or its crew members.
As to why the Obama regime would deliberately conceal from the American people this "deliberate war crime", this report explains, is due to their fears of what the reactions of their citizens would be upon learning that these 12 brave US Marines were killed by their own NATO ally Turkey—who at the exact same time the US is fighting with and assisting the Kurdish peoples in fighting Islamic State terrorists, Turkey is doing everything it can to destroy them.
So bitter have relations deteriorated between the Obama regime and Turkey over America's support for the Kurdish peoples, this report notes, Turkish officials even openly warned the American's again yesterday that they won't even tolerate the inclusion of Kurdish groups at the upcoming peace talks aimed at ending the war in Syria—with Prime Minister Ahmet Davutoglu bluntly telling the US: "We will never accept that YPG is being seen as a legitimate power on the opposition side. We will never allow this to happen because it is a direct threat to Turkey."
Upon the Security Councils reviewing the MoD information relating to Turkey's downing of these MARSOC helicopters, and its threat to further destabilize the Levant War Zone, this report concludes, it issued a warning a few hours ago stating that the activities by foreign Special Forces are now one of the main threats to Russia's security.
RELATED ARTICLES
Did you like this information? Then please consider making a
donation
or
subscribing
to our Newsletter.