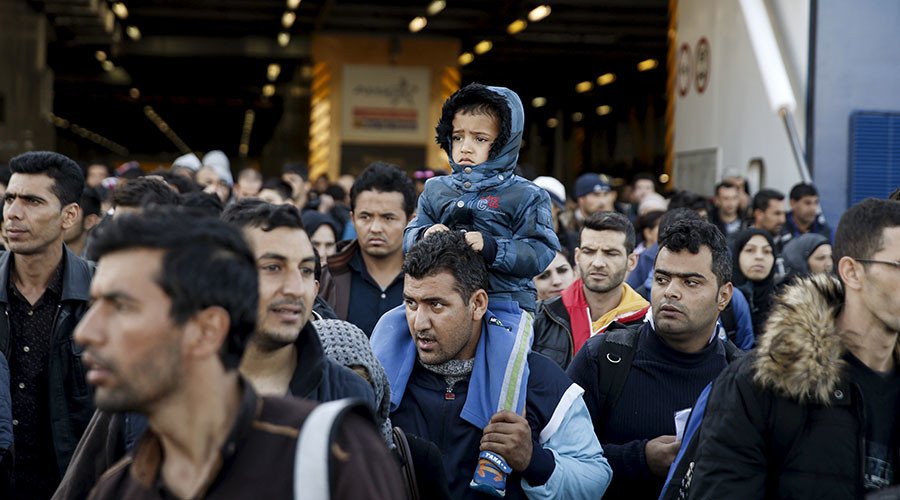 A surge in the number of bodies of refugees whose boats capsized as they desperately tried to reach Europe has filled the burial grounds of the Greek island of Lesbos to capacity, the island's mayor said, adding that over 50 bodies remain unburied.
The island's morgues, cemeteries and emergency services have been overwhelmed with a record number of bodies of migrants who died trying to cross the Mediterranean in October. According to the latest UN data, over 218,000 people arrived in the EU during the month, beating the total annual number for the whole of 2014.
Some 744,000 migrants and refugees have arrived in Europe in 2015 alone, of which at least 3,300 died while making the journey.
Mayor Spyros Gallons told the Greek media that, while five funerals were held this weekend, 55 bodies remain at the morgue and the island is having a hard time finding burial ground for them.
"Yesterday we held five funerals, but there are still 55 bodies at the morgue," NBC News quoted Galinos as saying. "Who could have anticipated such a carnage in the Aegean?"
Lesbos, with a population of 86,000, lies in the Aegean Sea near Turkey's cost. It has served as one of the main destinations for refugees and other migrants trying to escape violence and poverty in Syria and other conflict zones in the Middle East and Africa.
On Monday, the tragic situation was exacerbated, as 11 refugees, most of them children, drowned in the Aegean Sea while trying to reach Lesbos. Moreover, on Sunday another 15 people, including six children, died in the Aegean after their boat capsized off the Greek island of Samos.
Galinos told the media that authorities are working on fast-tracking procedures for creating new burial ground next to the main cemetery.
The situation on the island has also prompted ambulance workers to protest state budget cuts that have downsized the number of emergency vehicles to only three, despite the increasing number of refugees.
Greek Prime Minister Alex Tsipras has criticized the ineffectiveness of EU policies for dealing with the refugee crisis.
"These are hypocritical, crocodile tears which are being shed for the dead children on the shores of the Aegean," Tsipras told the Greek parliament last week. "Dead children always incite sorrow, but what about the children that are alive who come in thousands and are stacked on the streets? Nobody likes them."
RELATED ARTICLES
Did you like this information? Then please consider making a
donation
or
subscribing
to our Newsletter.