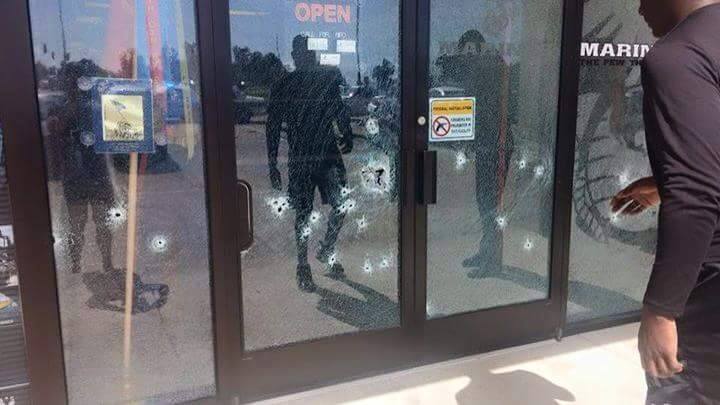 Five individuals were killed in the shooting at the Navy Reserve center in Chattanooga, Tennessee, including the shooter.
While police are saying that the active shooter situation is now over, five individuals have been killed, which includes four marines and the shooter. Three injuries are also reported, including one police officer who was shot in the ankle.
"We do know that we have four individuals who are killed who are victims," Mayor Andy Berke said during a news conference. "We know that the shooter was killed at the scene, as well."
The US Attorney for the Eastern District of Tennessee Bill Killian said he considered the incident an act of domestic terrorism. Still, Killian urged the public not to focus on "labels" at this point.
Authorities are not releasing any information on the shooter at this time, though they do believe the shooting to be a single-shooter incident. The suspect is believe to be a local.
A US military official speaking to NBC News said that the gunman fired between 25 and 30 rounds. According to Chattanooga Mayor Andy Berke, one officer is "down" in connection with the incident.
Victims were taken to Erlaner hospital, which was put on lockdown. Sources indicate that an injured officer is currently in stable condition and about to go into surgery.
President Obama has been briefed on the situation, and the FBI and ATF are en route to assist in the investigation.
The shooting began at a military recruitment center Thursday morning and continued at a naval reserve center six miles away. Witnesses reported hearing multiple gunshots, most at the second location. All victims of the shooting were also found at the second location.
"I am deeply disturbed by reports of a violent attack in Chattanooga," US Senator Lamar Alexander said in a statement. "I have been in touch with federal, state and local officials and will monitor the situation closely. My thoughts and prayers are with everyone involved."
"I am heartbroken by the tragic shootings that have taken place in my hometown," US Senator Bob Corker also said in a statement. "We have been in touch with federal, state and local officials and continue to monitor developments and have offered our assistance. This is a difficult day for Tennesseans and our thoughts and prayers are with all affected by this tragedy."
RELATED ARTICLES
Did you like this information? Then please consider making a
donation
or
subscribing
to our Newsletter.