At least four people are killed as a strong earthquake hit Nepal days after another quake left a trail of destruction and high casualties in the South Asian country.
Aid agencies said on Tuesday that at least four people were killed in the tremor. Nepal police said at least 300 people were injured.
According to the US Geological Survey, a 7.4-Richter earthquake jolted the country on Tuesday. The quake reportedly lasted for around one minute.
The quake, with its epicenter 83 kilometers east of the capital, Kathmandu, was measured at a shallow depth of about 18.5 km.
The earthquake caused panic in the Nepalese capital, Kathmandu. It was also felt in the neighboring countries of India and China.
There has been no report of any casualty or damage.
According to the USGS, magnitude 5.6 and 6.3 earthquakes hit Nepal less than an hour after 7.3 tremor.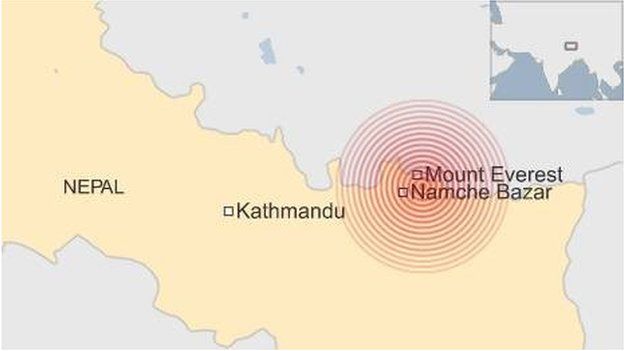 On April 25, a 7.8-magnitude quake struck Nepal that killed more than 8,000 people and destroyed hundreds of thousands of homes in the country.
The devastating tremor also killed more than 100 people in India and China.
The Nepalese government has allocated 20 billion rupees (around $196 million) for the country's reconstruction and rehabilitation. However, it is also looking for large-scale financial contribution by the international community.
The UN says the quake has affected more than a quarter of Nepal's 28 million people.
Speaking from New Delhi, Press TV's correspondent Munawar Zaman said the earthquake struck at 12:35pm local time and its epicenter was close to the town of Namche Bazaar near Mount Everest.
RELATED ARTICLES
Did you like this information? Then please consider making a
donation
or
subscribing
to our Newsletter.