Attack on language as word "thug" declared racist, despite Obama, black Mayor and City Council President using it.
A city councilman in Baltimore dropped the N word on live TV after becoming irate that a CNN host argued that labeling violent rioters and looters "thugs" was a correct use of language.
An angry Carl Stokes said that CNN's Erin Burnett should "just call them n*ggers. Just call them n*ggers," when she attempted to explain that the word "thug" was a justified description.
"No, it's not the right word to call our children 'thugs,'" Stokes said, when Burnett brought up the point.. "These are children who have been set aside, marginalized, who have not been engaged by us."
"But how does that justify what they did?" Burnett argued. "That's a sense of right and wrong. They know it's wrong to steal and burn down a CVS and an old persons' home. I mean, come on."
"No, we don't have to call them by names such as that. We don't have to do that. That is exactly what we've sent them to. When you say, 'Come on,' come on what? You wouldn't call your child a thug if they should do something that would not be what you expect them to do."
"I respect your point of view," Burnett replied. "I would hope that I would call my son a thug if he ever did such a thing."
The clear insinuation is that the use of the word 'thug' is a racist term. This is despite the fact that even the President used the word in his Tuesday address on the Baltimore troubles.
Obama described the rioters as "criminals and thugs" who he said were exploiting the death of Freddie Gray.
The response was remarkable, drawing Orwellian language police out of the woodwork.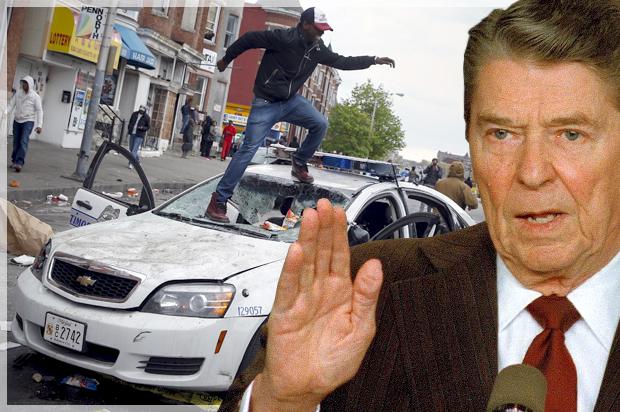 As Newsbusters notes, following leftist media attempts to denounce the President's use of the word, the AP even eliminated it from their transcript of Obama's speech.
The Twitter universe responded with outrage, labeling Obama an 'Uncle Tom' and a 'Nigga'.
The idea that the word 'thug' is somehow racist was initially raised by Ahmir Khalib Thompson, better known as Questlove, drummer and leader of The Roots, the house band for the Tonight Show With Jimmy Fallon. It has since been touted by Red Flag News, Salon, Huffington Post, CBS News and a host of other leftist news sites as the new "code word" for the "N" word.
Thompson took offense to Baltimore Mayor Stephanie Rawlings-Blake's use of the word in a press conference Monday. The Mayor has since backtracked and been forced to apologise for using the T-word, as it has been labeled by the language police.
"We don't have thugs in Baltimore," Rawlings-Blake said. "Sometimes my own little anger translator gets the best of me. … They're going to regret what they've done, but it's too late."
The president of the Baltimore City Council also apologized Tuesday for calling rioters "thugs", re-branding those responsible for the violence as "misdirected" youths.
Those who disagree that the word thug means anything other than 'violent individual' hit back:
Michael Brown, the former under secretary of Homeland Security to President George W. Bush, noted the hypocrisy in the use of terms such as 'Thug life', according to the 'new rule':
Watch Alex Jones break down the origin of the word "thug", and how those declaring it to be 'racist' are literally engaging in an attack on language to forward their agenda, devoid of any intellectual prowess.
RELATED ARTICLES
Did you like this information? Then please consider making a
donation
or
subscribing
to our Newsletter.