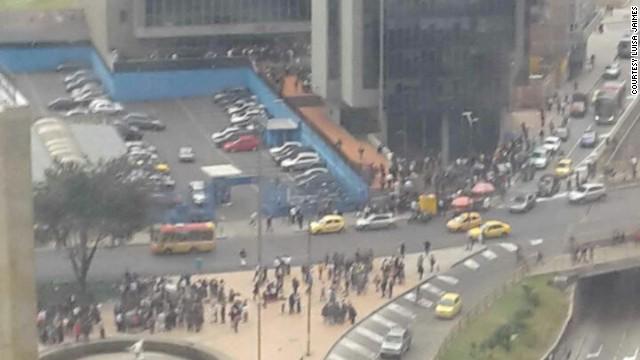 A magnitude 6.6 earthquake has hit the Colombian capital of Bogota, prompting mass evacuations from the city's buildings. Strong and prolonged tremors sparked panic and a social media storm.
The Colombian Geological Survey reported that the tremors originated from the Santander Department area and were 158 kilometers deep. The earthquake was an estimated magnitude of 6.6.
According to the US Geological Survey (USGS), the earthquake was centered about nine miles (14 kilometers) north of Aratoca, which is about 175 miles (280 kilometers) north of Bogota. The epicenter was reportedly 91 miles (147 kilometers) deep. The USGS revised the earthquake's magnitude to 6.2.
No damage or casualties were immediately reported.
Residents reported on Twitter that tremors were felt in several Colombian cities, and posted photos of people rushing into the streets and waiting outside houses, cafes, and shopping centers.
There were reports that cellphone networks were completely jammed in the capital minutes after the earthquake struck. Local media said the quake was felt in the second biggest city of Medellin, as well as in several Venezuelan cities near the border.
"We know of no serious impact up to now," Oscar Ivan Marquez of the presidency's Risk Management office said, as quoted by Reuters.
RELATED ARTICLES
Did you like this information? Then please consider making a
donation
or
subscribing
to our Newsletter.