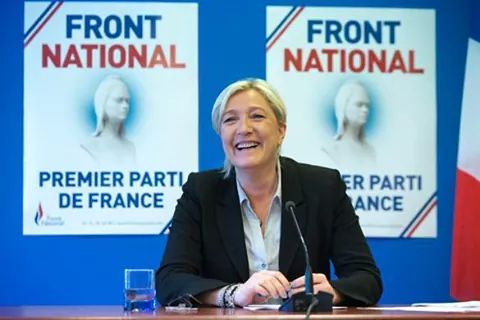 The leader of the French National Front, Marine Le Pen, believes that resolving the Ukrainian crisis is possible only by giving a neutral status to the country.
"The settlement of the Ukrainian crisis is a very complicated question. But I think that it was possible to solve it by giving a neutral status to the country," Le Pen said, TASS reports.
Le Pen stressed out that "Ukraine's aspirations to become a member of NATO lies at the heart of the conflict." She also pointed out that there is a civil war going on in Ukraine. However, Le Pen added, there are no Russian troops in Ukraine.
"European capitals do not have the wisdom to refuse to be dependent on US positions on Ukraine," Le Pen told French journalists on Sunday. "Regarding Ukraine, we behave like American lackeys," she said, before warning that "the aim of the Americans is to start a war in Europe to push NATO to the Russian border," RT said.
"Today, in Ukraine, we have to deal with the government that came to power illegally, as a result of the "revolution on Maidan" and now bombs civilians in Donetsk and Lugansk. This is a war crime that should have caused most serious concerns with all these human rights defenders, whom we constantly hear in the French media saying absolutely different things," said Le Pen.
"The US aims to provoke a real war in Europe with its intention to supply arms to Ukraine. They want to bring the NATO zone to the Russian border. They have been trying to increase influence in Eastern Europe for many years. The US wants Ukraine to join NATO, and the current Ukrainian government pursues the same goal," Marine Le Pen said.
RELATED ARTICLES
Did you like this information? Then please consider making a
donation
or
subscribing
to our Newsletter.