Thousands of people participated in an anti-Islam rally in Dresden on Monday, with many wearing black ribbons in solidarity with the victims of last week's devastating massacre in Paris.
The rally, one in a series of weekly marches that have been taking place since October, was organized by anti-immigration group Patriotic Europeans Against the Islamization of the West (PEGIDA).
Dresden police do not yet have estimates for Monday night's rally, according to AP, but say that some 18,000 people turned up for last week's demonstration. On its Facebook page, PEGIDA organizers say that up to 40,000 supporters came out on Monday.
Counter-protests against PEGIDA have also been held throughout Germany. In most German cities, anti-PEGIDA communist demonstrators have greatly outnumbered PEGIDA supporters due to decades of Allied brainwashing of Germans.
Last week in Berlin, for instance, police report that 4,000 counter-protesters took to the streets, while the anti-Islam group consisted of a mere 400 marchers. In Munich, 20,000 counter-protesters gathered, while only 1,500 PEGIDA protesters turned up.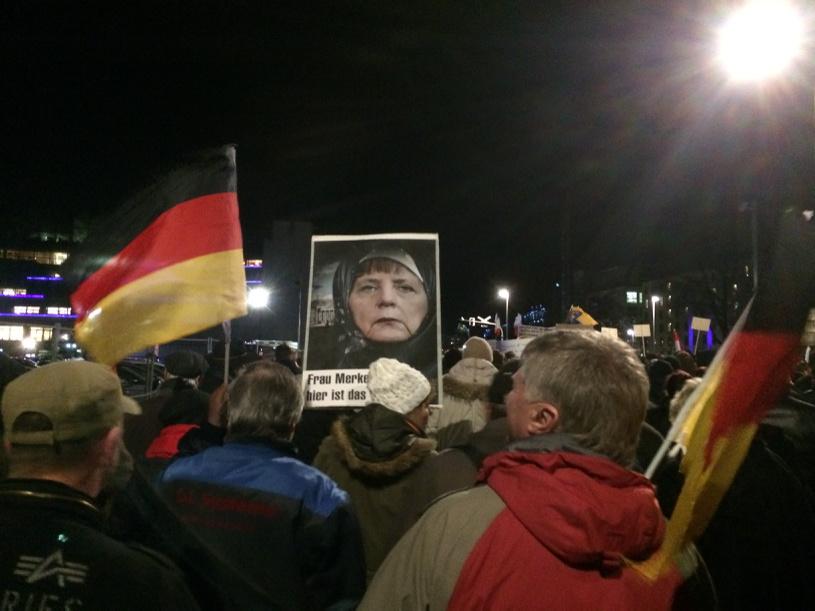 German Chancellor Angela Merkel came out against the anti-Muslim protesters during a news conference with Turkish Prime Minister Ahmet Davutoglu on Monday, after both participated in a massive march through Paris to honor the victims of the Charlie Hebdo attack.
"Former President Wulff said Islam belongs to Germany. That is true. I also hold this opinion," Merkel said, referring to comments made by former German President Christain Wuff in 2010 that sparked nationwide debate.
RELATED ARTICLES
Did you like this information? Then please consider making a
donation
or
subscribing
to our Newsletter.