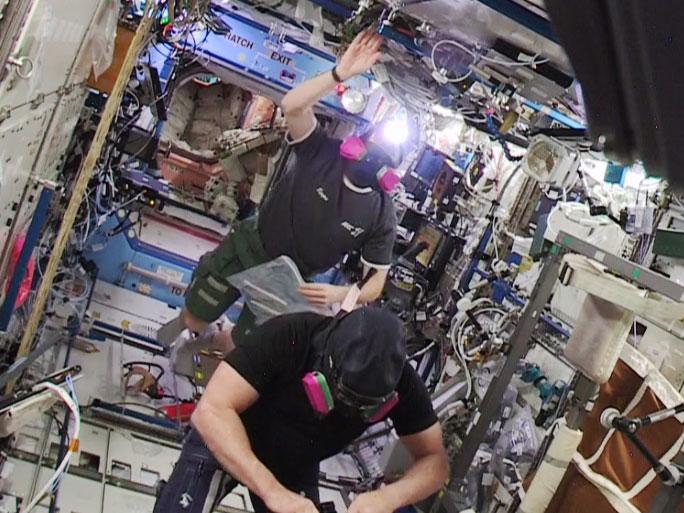 The threat of a possible toxic leak in the US sector of the ISS forced the American astronauts on board to isolate their module and move to the Russian sector. The hatch was reopened hours later after no leak was detected, NASA reported.
The decision to reopen the hatch was done after receiving data readings from a variety of sensors aboard the International Space Station (ISS) and carefully studying flight controllers throughout the day, all of which indicated "no leakage of ammonia on the station."
NASA says the false alarm may have been caused by a "transient error message in one of the station's computer relay systems, called a multiplexer-demultiplexer."
After turning the relay box off and on again, the error message disappeared. Flight controllers have said the relay box is in good operating condition.
The European and two American astronauts returned to the US side at 20:05 GMT, NASA said.
NASA is continuing to analyze flight controller data in an effort to determine what triggered the alarm in the first place.
The incident, which occurred at about 09:00 GMT, prompted the six-member crew to put on emergency masks and rush to the Russian side of the orbital station to avoid potential poisoning from ammonia, which is used in the cooling and heating systems of the ISS.
"At this time the team does not believe we leaked ammonia," ISS program manager Mike Suffredini said. "There was never any risk to the crew," he added.
"The safety of the crew has been secured by prompt joint action by the US and Russian crewmembers, as well as by mission control staff in Moscow and Houston," said the head of the Russian Mission Control Center, Maksim Matyushin.
The current crew of the International Space Station consists of six researchers representing two expeditions. Expedition 42 arrived on the ISS in September and consists of US astronaut Commander Barry Wilmore and Russian cosmonaut engineers Aleksandr Samokutyaev and Elena Serova – the first Russian female cosmonaut in 17 years.
RELATED ARTICLES
Did you like this information? Then please consider making a
donation
or
subscribing
to our Newsletter.