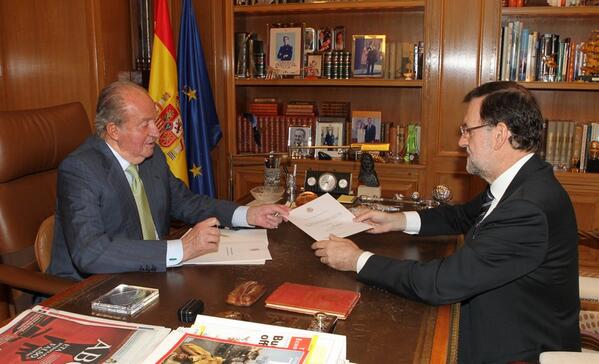 Juan Carlos, the king of Spain, plans to abdicate, according to the country's prime minister. A new constitutional amendment will reportedly be proposed to allow for the abdication. Crown Prince Felipe is to become the new monarch.
Spain's King Juan Carlos is abdicating after almost 40 years on the throne and his son Prince Felipe will succeed him, Prime Minister Mariano Rajoy said on Monday in a surprise announcement.
"His majesty, King Juan Carlos, has just communicated to me his will to give up the throne," Rajoy said. "I'm convinced this is the best moment for change."
Rajoy went on to say "his majesty would like to explain personally to the Spanish people later this morning" the reasons for his abdication.
The 76-year-old King has been troubled by chronic health problems over the past couple of years and his popularity has also taken a hit for the worse amid the financial crisis that has crippled Spain's economy. The monarch was greeted with public fury after photos emerged of his elephant-shooting safari trip to Botswana in 2012, at the height of the financial downturn in Spain.
In addition, Juan Carlos' daughter, Princess Cristina, and her husband Inaki Urdangarin, are currently being investigated on charges of corruption.
Describing Juan Carlos as a "tireless defender" of Spain's interests, Rajoy said a special meeting of the Council of Ministries has been scheduled for Tuesday to deal with the Monarch's abdication.
"He has been the best spokesman and has put forward the best image of the Kingdom of Spain throughout the world," said Rajoy.
RELATED ARTICLES
Did you like this information? Then please consider making a
donation
or
subscribing
to our Newsletter.