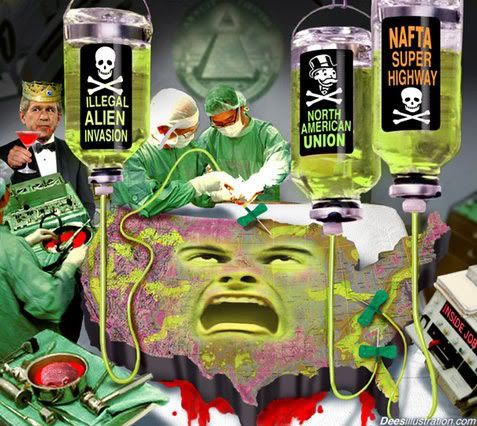 Ever wonder why our borders are left wide open and why the immigration laws are not enforced? Or why Obama has just allowed thousands of illegal immigrant children to come into our country "legally" if the parents drop them off on the other side of the border? If you haven't now is the time to ask these questions with the possible arrival of over 150,000 Mexican immigrants pouring into our country.
Our economy is unstable as it is, we have no money and no resources to support this influx. So why do it? There must be a "hidden" agenda to all this chaos. After all, when it comes to Barack Obama, who is a committed globalist, anything goes!
The research in the video below reveals the outright betrayal of the American people by a government cabal who is hell bent on destroying American sovereignty in order to create a North American Union through this influx of immigrant children. This cabal is deliberately circumventing the U.S. Congress and 'We the People' in blatant violation of our Constitution… thereby committing straight up treason…
Want to know why you haven't been told about this? That's because the global cabal is purposefully keeping it from you…
"We're grateful to The Washington Post, The New York Times, Time Magazine and other great publications whose directors have attended our meetings and respected their promises of discretion for almost forty years. It would have been impossible for us to develop our plan for the world if we had been subject to the bright lights of publicity during those years. But the world is now more sophisticated and prepared to march towards a world government." David Rockefeller, chairman of the CFR from 1970-1985, explains.
RELATED ARTICLES
Did you like this information? Then please consider making a
donation
or
subscribing
to our Newsletter.