Self-defense squads have reportedly taken down at least two Ukrainian army helicopters, with one pilot confirmed dead. Another pilot is being operated on, and the fate of the others is currently unknown. There was no evidence of any wreckage. The Ukrainian government claimed one of them was brought down by a surface-to-air missile. That hasn't been verified yet, but U.S. sources are treating the report as "credible" and just as usual they ware highly likely to blame this event on Russia in the next following minutes or hours.
However, conflicting reports about the pilots have emerged, with the Ukrainian Defense Ministry stating that two pilots were killed during the operation.
The photo below reportedly shows one of the wounded helicopter pilots being taken to hospital: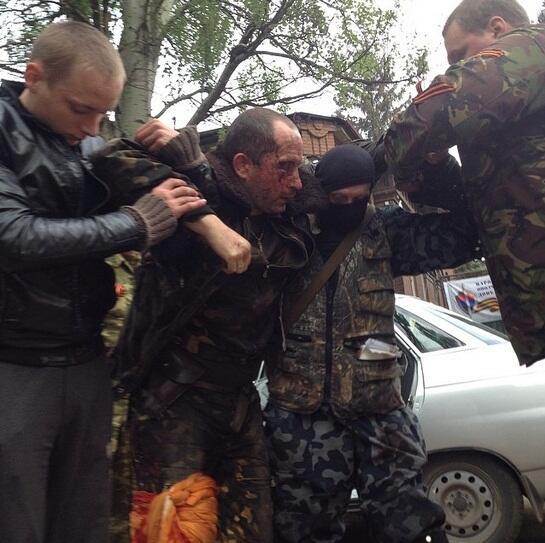 Unconfirmed reports suggest the pilot is Captain Savuilov. Doctors said that he suffered a wound in his upper leg and a large blood vessel got injured.
As the medics tried to tend to the wound, an outraged member of the self-defense forces spoke out emotionally about how the Ukrainian forces dumped their own serviceman.
"His troops abandoned him. I thought they would take him away in another helicopter, but they just took his pistol from him and flew away," a member of the self-defense forces in Slavyansk told RIA Novosti.
The Ukrainian army helicopters carried out air strikes on Slavyansk, according to eyewitnesses. One of the residents told RIA Novosti that the strikes "were conducted in the open terrain near the checkpoints' area."
This information has been confirmed by the self-defense forces who reported that the attack started out with "all the checkpoints massively targeted, with the use of helicopter support." The squads sounded a special siren in the city to alert residents.
The loss of the helicopters forced Kiev to halt the crackdown on the eastern city, which already saw at least three deaths since its launch in the early morning – two Ukrainian troops and one member of the self-defense forces.
RELATED ARTICLES
Did you like this information? Then please consider making a
donation
or
subscribing
to our Newsletter.