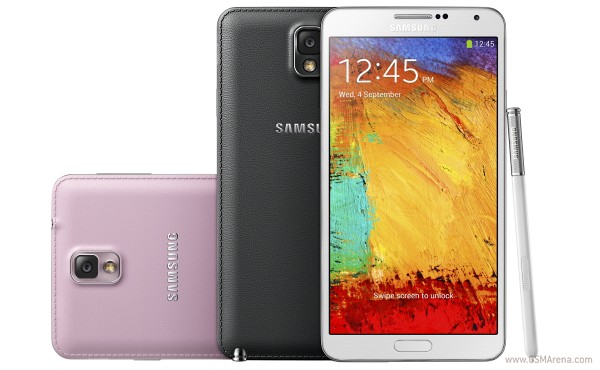 The long awaited 3rd installment from the Galaxy Note series is set to change not only the phablet market but the smartphone market as-well.
As some of us already know, Samsung Galaxy Note isn't exactly a phone because it's simply too big to fit in a pocket but its not that big because it would have been called a tablet. So what is it? It's a hybrid between a phone and a tablet, so it's called a "phablet".
Phablets are quite new and rare… not too many people prefer these devices because they are just too big to suit their daily needs and functions as normal smartphones do but Note III will soon be one of the best equipped Android device out on the market.
Note III will come equipped with Snapdragon 800 powered by a quad-core Krait 400 CPU clocked at 2.2 GHz, which beats both Galaxy S4s (I9500 which is equipped with Exynos 5 Octa 5410 and I9505 which is equipped with Snapdragon 600). Snapdragon 800 is more than 50% faster than any of those chipsets and even though Samsung will "soon" (months passed and the phone still hasn't been launched since its announcement) launch a Snapdragon 800 based Galaxy S4 which will be called I9506, even this top Galaxy S4 won't be able to compete against this monster called Galaxy Note III.
Samsung Galaxy Note III is the first to bring 3GB of RAM which is a heavy weight game changer. Most people don't even have the vaguest idea how important RAM memory is not just for smartphones and Android devices but generally for ANY device.
A car GPS uses RAM, a notebook uses RAM, a computer uses RAM and even a printer uses RAM. Every machine that uses any sort of memory to remember its tasks and changes, is virtually more powerful with a bigger RAM.
Not too long ago "giant" 15.6 inch notebooks came with 2GB of RAM and some with 3GB and now we'll get 3GB in a "tiny" 5.7 inch phablet. What do you say about that? Now Galaxy S4's 2GB of RAM should also be sufficient to run most of the stuff you can find on Google's Play Store but that's that's just today. You can run today's apps with Galaxy S4 but you should be able to run tomorrows apps with Galaxy Note III due to its 3GB RAM.
Aside from the importance of RAM memory and CPU, Galaxy Note III comes in two versions: 32GB and 64GB (no 16GB version) and both versions will be standard equipped with Galaxy S4's 13MP camera, Adreno 330 GPU (video chip), 5.7 inch Super AMOLED, FullHD screen resolution (1920×1080), Bluetooth 4, A-GPS, WiFi, LTE (4G support for better internet speeds) which is found only on unlaunched Galaxy S4 I9506, and surprise……. Radio FM!
Yes, after users have complained to Samsung about removing the Radio FM from all Galaxy S4 smartphones, Samsung has decided to bring back the Radio FM which we could only applaud. Even its Android version will be newer than any other Galaxy S4 version both released (I9500/I9505) and unreleased (I9506), Note 3 will run Android Jelly Bean 4.3, unlike Galaxy S4 which runs Android Jelly Bean 4.2.2.
Samsung Galaxy Note 3 will be powered by huge a 3200mAh battery which should definitely have enough juice for your phablet to keep it alive for more than a day… Unfortunately, today's gadgets don't hold up for more than a day if you really use them (make some phone calls, take some photos, browse the internet and not even mentioning playing a game). However this huge 3200mAh battery will hopefully hold for more than a day, maybe 2 days?
Criticism
As dumb as it sounds, ALL Samsungs on the market make some sort of sound when plugged to a charger, except for Note 3! It may be a bug or a deliberate omission for some strange reason? Who knows? Anyway the sound file is actually present in the phone but it's simply NOT used. If you want to use it. Here's a simple guide. Go to Play Store and install the Plug Sound app, inside the app go to Plug in and select a Notification sound, "Charming bell" or "Bubbles" which are both pretty similar to the official Samsung Galaxy charging sound.
Now if that's enough for you and you absolutely want the default Samsung Galaxy series charging sound, that's still possible because as mentioned before the sound is actually present in the phone but simply not used. Doing this would be more complicated but here's a guide for you: go to Play Store again and install the File Manager app, restart your phone and go to Plug Sound > Plug in > now you will be asked to complete the action using either Media Storage or File Manager, select File Manager > Just Once > tap on green "Up" button until it's greyed out and untapable > scroll down and go to > System > Media > audio > ui > and select the file Charger_Connection.ogg
That's it, you're all set up, plugin your Note 3 and you should definitely hear the charging sound, with a little delay, yes… but at least it's there! Update: Unfortunately, current version of Plug Sound (1.3) does not work with KitKat 4.4. As soon as you plug or unplug your charger, your ringtone will start playing repeatedly. Uninstall Plug Sound if you are experiencing these issues and wait for a fix in the future version 1.4.
Why did Samsung copy from Apple iPhone so much, AGAIN? Beside the standard copied things, 3 new things have been copied from iPhone and implemented in Note 3:
1 – Silver bezels?? REALLY Samsung???
2 – If iPhones don't have RadioFM, then what the heck, why should we at Samsung have RadioFM? Let's remove it, copy iPhone even more!
3 – Single speaker mounted in the bottom bezel, just like in iPhones?? Really pathetic from Samsung… Quite speechless actually! Lack of originality.
UPDATE: Where's the Radio FM!?!?? Turns out Samsung lied again! It was initially claimed that Note 3 has Radio FM but it was later revealed that NONE of the Note 3s have Radio FM. A pretty despicable lie if you ask us, especially after people complained that the Galaxy S4 doesn't have Radio FM. Ignorant Samsung decided to remove the Radio FM because now we're all cool and we use Internet Radio instead of FM Radio… but there's so many stupidities to this decision that we can't even count! Here's the main 4 reasons why Samsung shouldn't have removed Radio FM from Note 3:
1 – What if you have Note 3, but no carrier internet, just WiFi internet here and there?
2 – What if you do have carrier internet but with only a small limited traffic??? Why would you wanna waste your traffic on Internet Radio when Radio FM should have been there and waste NO internet traffic at all!!!
3 – OK, you're the boss! You have UNLIMITED carrier internet and you don't care about traffic because it's well… unlimited! Hmmm wait! There's still a problem, you're traveling in another country and you wanna listen to Radio music… hmm tough luck! Using internet while on Roaming (when traveling to other countries) is extremely expensive and you would have to be really dumb or filthy rich to use internet while on Roaming, just for Radio.
4 – Alright, alright!!! You're not just the boss, you're the KING! You have an ultra-special contract with your carrier (really rare) that allows you to use internet while on Roaming for free, or very cheap. But what if you just wanna listen to LOCAL radio instead of boring international radios which you can lisen anytime, anywhere? Imagine you're traveling to Brazil and you wanna listen to their local music, not US rap music from internet radio. Or you're in Japan and you wanna listen to their local traditional music while you're in your hotel room or something.
Radio FM is irreplaceable and Samdumb was really stupid to remove it from their new smartphones.
For some bizarre reason, we noticed that Note 3 has only 2.38GB of total RAM with stock Android version 4.3 Jelly Bean.
The Snapdragon variant SM-N9005 (the fastest version of Note 3 + LTE) has almost a half gigabyte reserved for system (GPU probably) in all Snapdragon Notes. The stock 4.3 Exynos version has 2.70 GB compared to Snapdaragon which has 2.38GB so it has a little bit more.
It's logical to reserve a good amount of memory for the GPU to access. It is a 1080p screen resolution device, after all. Graphically-intense processes at higher resolutions typically require more memory than their lower resolution counterparts. The Adreno 330 is a more powerful GPU than the Mali-T628 MP, too.
However, with 4.4.2 KitKat, Note 3's total RAM is increased to 2.71GB. 338MB of RAM are somehow lost in JellyBean 4.3 so we strongly advise you to update to KitKat as Note 3 moves a lot faster than before. Not only that you earn more RAM available with KitKat, but KitKat is also optimized to work faster with lesser RAM.
Upgrading to KitKat does not change anything to your Note 3. The UI will remain the same, so you don't have anything to worry about.
Conclusion
Our advice for those of you who haven't already bough a Samsung Galaxy S4 because you were waiting for the Galaxy S4 I9506, is to wait until March or April next year (2014) because that's the typical date when Samsung launches its new Galaxy smartphones. So yes, Galaxy S5 will definitely be launched next year at the same price Galaxy S4 was launched. All you have to do is just to wait a few more months and get a better phone.
Furthermore, after countless complains, Samsung has also decided to make its further smartphones with metal cases rather than cheap plastic. Samsung has finally announced just yesterday that their future line of Galaxy phones will use metal cases (probably Aluminum or Magnesium). It is also rumored that Samsung is already working on new designs and is testing new materials in its factories in South Korea, but also exporting some of the work to Vietnam.
Galaxy S5 will also probably bring a better camera as now it lags far behind Nokia Lumia 1020's 41MP camera and Sony Xperia Z1's 20.7MP camera). This will practically force Samsung to improve its camera so it can hold up with its competitors.
With all that said, it seems that Samsung has now chosen its Note series to become their ultimate elite products and their kind competitors against rival companies. It's a pity that Samsung has adopted a mentality where size matters. The bigger their products are, the better they now come equipped.
As nothing is perfect with us, here at XtremDigital.com, we can definitely say that Samsung could have offered a better camera on both Galaxy S4 and Galaxy Note 3 and because of this, they've lost a star. Because you have compromise and get a really huge phablet in order to have 3GB of RAM and Radio FM among other functions, Samsung looses another star.
Samsung Galaxy Note 3's price for an unlocked version and contract-free is set to be 730 Dollars in the US, 550 Euros in Europe and 550 Pounds in the UK.
PROS:
+Very very fast and responsive
+FullHD screen resolution
+Very fast charging if connected to USB 3, the phone charges the battery up really fast
+UltraHD (4K) video recording, BUT ONLY with N9005 (the version with Snapdragon 800)
CONS:
-No charging sound
-No Radio FM
-Samsung copied too much from Apple iPhone again
-In combination with Samsung's original flip cover, it may annoy you as the screen goes on and off automatically whenever the flip is opened/closed without the possibility to turn this option off from Note 3's settings. All of this is caused by a pesky little magnet inside the flip.
RELATED ARTICLES
Did you like this information? Then please consider making a
donation
or
subscribing
to our Newsletter.