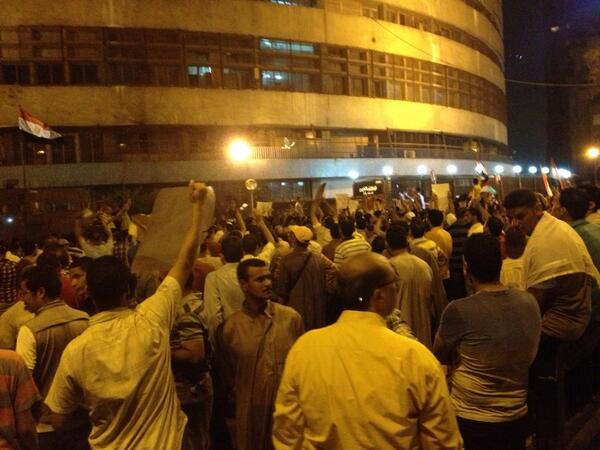 Egypt's health ministry has said that at least 17 people were killed and over 200 injured in clashes between pro and anti-Morsi protesters on Friday. The most violent are at the 6th October bridge near Tahrir, amid reports of gunfire and Molotov cocktails.
The unrest has rocked some eight areas of Cairo, with Alexandria and approximately six other provinces as street battles have erupted between pro- and anti-Morsi supporters.
In Cairo, street battles are breaking out near Tahrir Square.
At least three deaths as a result of the most recent clashes near Tahrir Square has been reported.
A car has been set on fire amid a barrage of fireworks put to use as weapons and physical violence between pro- and anti-Morsi protesters. Later reports suggested that further shots and tear gas had been fired.
Helicopters are flying overhead and ambulances are arriving on the scene according to RT's Paula Slier. The military are refraining from direct intervention according to witnesses on the scene.
People have been running in a disorientated manner through plumes of thick smoke, with some traffic caught in the middle and lots of small fires being started. Protesters hurled stones from the bridge as the fireworks went off.
The loud bangs emanating from the fireworks have been interspersed with gunshots, according to eyewitnesses.
A large pro-Morsi crowd had been heading in the direction of the state 'Maspero' TV building and gathered outside in the vicinity of anti-Morsi crowds, fueling fears that violent encounter would occur as they edged closer towards the square. Some injuries were reported at the TV station. As protesters later moved towards he bridge, crowds at Maspero thinned out.
Egypt witnessed 10 deaths nationwide on Friday alone, according to Ministry of Health data.
In addition to Friday's outbreak of violence in the capital, the Sidi Jaber district of Alexandria was badly hit, as pro-Morsi protesters lobbed stones and Molotov cocktails at police cars blocking the streets. A petrol bomb hit a car, leading several people to attempt to quell the flames with water from bottles.
Over the course of the protests, according to Ministry of Health data released on June 30, 62 people had died and more than 2500 have been injured.
RELATED ARTICLES
Did you like this information? Then please consider making a
donation
or
subscribing
to our Newsletter.