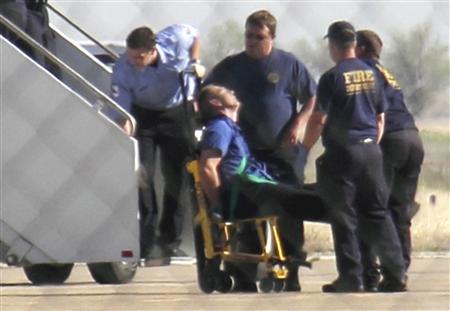 A disturbing report prepared by the Federal Air Transport Agency currently circulating in the Kremlin is warning that Americans traveling on their countries airlines may be in "grave danger" due to an increasing number of "psychotic" air crews allowed by the US government to both pilot and manage passenger affairs while taking some of the world's worst known psychotropic (mind altering) drugs.
According to this report, in the past month alone there have been two reported instances of US flight crews going "berserk" putting the lives of hundreds of passengers at "mortal risk" that include:
Captain Clayton Frederick Osbon [first photo right] piloting a Jet Blue flight from New York to Las Vegas this past week had to be subdued by passengers after his co-pilot locked him out of the cockpit after he became incoherent and began screaming "messages of doom" while pounding on the locked door to regain entry. Captain Osbon was removed from the plane by FBI agents (who subsequently charged him with US Federal crimes) who then took him to Northwest Texas Healthcare System in Amarillo for medical evaluation, where he remains.
Earlier this month and American Airlines jet was delayed as it taxied for take-off from Dallas-Fort Worth airport after a veteran flight attendant [photo of her being subdued 2nd right] who hadn't taken her medication began ranting about the September 11 attacks and saying the plane was about to crash. The flight was halted after the woman commandeered the plane's public address system and told passengers there were technical difficulties. First class travelers helped the cabin crew subdue the attendant, after she started screaming random things like she was 'not responsible for crashing this plane' and that they couldn't take off because there wasn't enough ice on board, according to witnesses.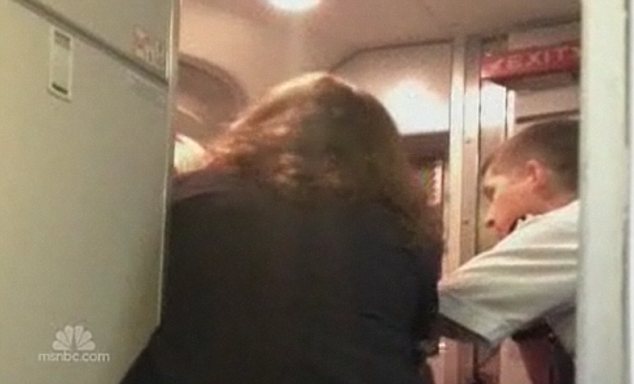 Curiously after the flight attendant was removed to hospital American Airlines issued a statement that said, "Two flight attendants were taken to local hospitals for treatment. We continue to investigate the details and circumstances, and will have no further comment at this time" raising more questions than have as yet been answered by US aviation safety authorities.
To both of these grave incidents Russian air safety experts in this report blame the United States Federal Aviation Administration (FAA) for their April, 2010 decision to drop their nation's decades-long ban on air crews being allowed to be under the influence of powerful psychotropic medications commonly known as anti-depressants.
According to a Los Angeles Times article about this horrendous decision the FAA stated that the "risks from side effects such as drowsiness that are associated with the medications used to treat depression don't pose a safety threat".
Russian experts, however, in this report note that of all the side effects of psychotropic medications the least one to be concerned about is drowsiness especially due to the fact that the medications approved by the FAA for US air crews include Eli Lilly & Co.'s Prozac, Pfizer Inc.'s Zoloft or Forest Laboratories Inc.'s Celexa or Lexapro. (Note: Prozac, Zoloft and Celexa have lost patent protection and are available in generic form.)
Just one these drugs alone, this reports notes, (Prozac) is so dangerous that even US authorities require it to carry a "suicide warning" and American citizens may be unable to be granted a security clearance if they've ever taken it, or any of the other three psychotropic's approved by the FAA.
Most especially dangerous about the FAA's decision to allow their air crews to take these powerful mind-altering drugs, this report continues, are the many links between them and mass murder to include:
Sam Manzie, 15, attacked, raped and strangled to death an 11-year-old boy selling items door to door for the PTA. He was on Paxil.
Kip Kinkel, 14, killed his parents and went on a shooting rampage at his Springfield, Ore., high school. He was taking Ritalin and Prozac.
Jeremy Strohmeyer raped and murdered a 7-year-old girl one week after he started taking Dexedrine.
Columbine High School's Eric Harris was taking Luvox.
T.J. Solomon, 15, who attended Heritage High School in Conyers, Ga., was taking Ritalin when he opened fire on his classmates, wounding six.
One of the most interesting is a case we can't yet prove. In 1998, 13-year-old Mitchell Johnson and 11-year-old Andrew Golden opened fire on their classmates in Westside Middle School in Jonesboro, Ark. Young Johnson had been seeing a psychiatrist but, when questioned as to the nature of his medication, if any, his attorney, Val Price, would say only, "That is confidential information, and I don't want to comment on that."
The crime America may never recover from, the studied and deliberate drowning of all five of her children by a mother in Texas, was performed under the influence of "anti-depressants."
So was the incredible stabbing murder of eight Japanese children in the first and second grades by a man on anti-depressants.
To when the next psychotic pilot or flight crew member brings down an airliner in the US this report ominously warns "is not a matter of if, but of when."
RELATED ARTICLES
Did you like this information? Then please consider making a
donation
or
subscribing
to our Newsletter.