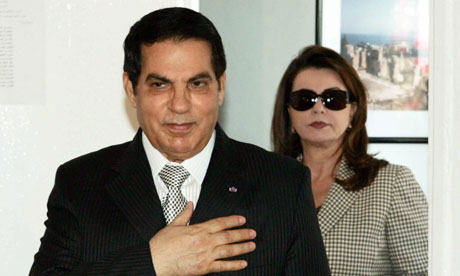 A court in Tunisia has sentenced ousted President Zine El Abidine Ben Ali and his wife to 35 years in prison after finding them guilty of embezzlement and other charges.
The conviction in absentia of Zine El Abidine Ben Ali and Leila Trabelsi came after a day-long trial before the Tunis criminal court.
The couple fled to Saudi Arabia on January 14 after a month-long revolution that sparked a string of other uprisings in the Arab world.
Ben Ali has denied the charges against him and says his departure was part of the plot against him. He said on Monday he had been deceived into leaving the country and denied giving orders for security forces to shoot at protesters demanding that he step down.
A statement issued by his lawyers at the Tunisian court where he was tried in absentia said he had agreed to take a plane to Saudi Arabia to bring his family to safety and had planned to return immediately. The statement added that the aircraft left Saudi Arabia without him after the crew ignored his instructions.
RELATED ARTICLES
Did you like this information? Then please consider making a
donation
or
subscribing
to our Newsletter.