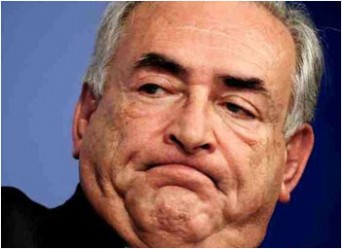 The former world finance chief accused of rape believed he was the target of a plot organised by Russian PM Vladimir Putin, it was claimed yesterday.
A colleague said Dominique Strauss-Kahn told him the Russians wanted him fired as boss of the International Monetary Fund.
And the 62-year-old Frenchman, facing charges of trying to rape a hotel maid in New York, accused France and Russia of hatching the scheme to stop him running for the French presidency.
French politician Claude Bartolone said Strauss-Kahn made the claim to him last month.
Mr Bartolone said: "He said the Russians, notably Putin, allied themselves with France to try to have him fired from the IMF, to stop him running for president.
"He said by not leaving the IMF 'cleanly' he would not be able to announce his candidacy."
Strauss-Kahn has been charged with rape, sexual abuse and false imprisonment at a hotel on Saturday.
After six nights in custody he has been freed on £600,000 bail.
Strauss-Kahn, who denies the allegations, faces up to 25 years in jail if convicted.
He may also have an HIV test amid claims his alleged victim has the virus.
RELATED ARTICLES
Did you like this information? Then please consider making a
donation
or
subscribing
to our Newsletter.