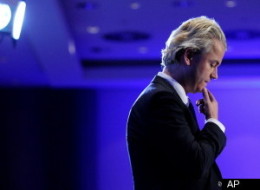 Dutch anti-Islam politician Geert Wilders appealed for freedom of expression Monday as he went on trial for alleged hate speech at a time when his popularity and influence in the Netherlands are near all-time highs.
Prosecutors say Wilders has incited hate against Muslims, pointing to a litany of quotes and remarks he has made in recent years. In one opinion piece he wrote "I've had enough of Islam in the Netherlands; let not one more Muslim immigrate," adding "I've had enough of the Quran in the Netherlands: Forbid that fascist book."
Wilders argues he has a right to freedom of speech and that his remarks were within the bounds of the law.
"I am a suspect here because I have expressed my opinion as a representative of the people," Wilders told judges at the start of the trial.
"Formally I'm on trial here today, but with me, the freedom of expression of many, many Dutch people is also being judged," he said, referring to more than 1.4 million voters who made his party the country's third-largest in June elections.
If convicted he could face up to a year in jail, though a fine would be more likely. He could keep his seat in parliament regardless of the outcome.
The trial was adjourned until Tuesday shortly after Wilders' opening remarks, when he declined to answer any questions from the three judges, invoking his right to remain silent.
Presiding judge Jan Moors said Wilders is known for making bold statements but avoiding discussions, and added that "it appears you're doing so again."
Wilders' lawyer, Bram Moszkowicz, said the remark showed Moors is biased against Wilders and moved to have him substituted. The move delayed the trial for at least a day as a separate panel considers the request.
RELATED ARTICLES
Did you like this information? Then please consider making a
donation
or
subscribing
to our Newsletter.